Five Outlander Inspired Garments - June 2016


These five garments were a commission inspired by the Outlander TV Series Season 2 - for the Large Bust SID woman and the Model body EID man. Photos were used to adapt patterns for all of these pieces.

Gold brocade fabric was used to create the first Robe Battante with the shorter sleeves. It has wide pleats in front and back, with a requested back yoke. All seams were bound; all hems and front facings were hand hemmed. The length was set slightly shorter in front.

The teal/gold 'brocade' fabric was used to make the second Robe Battante with the long sleeves and narrower pleats in the back. It also has a back yoke. The robe is fully self lined. The seams were all zigzagged and the hems were machine sewn with tiny stitches. Two tiny rows of gathering at the elbow give a pretty effect. The robe is slightly longer than the gold robe, and drapes onto the 'floor' at the back.

The silk nightgown was make of 100% Habotai silk with tiny silk ribbon at the neckline for gathering the neckline. The very wide, gathered sleeves have a ruff at the wrist, and the casing has 1/8" elastic hidden inside. This featherweight fabric is very sheer and drapes beautifully. Tiny hems were sewn at the wrist and mid-calf length of the body.

The EID man's waistcoat was made using the brocade fabric - inside out. The back and full linings were made of beige cotton batiste fabric. The fancy pocket flaps were drafted just for this garment from Outlander series photos, and have brocade outside and batiste inside. Both pockets have welted openings and deep pocket bags. There are nine tiny buttons with tiny buttonholes fitted to them (not all buttons were fastened for photos). All buttonholes were fray-checked before cutting them open.

The plaid skirt was made with the full width of the fabric, gathered into the waistband. The waistband closes in back with a snaps. The length was set to be floor/walking length.

My SID Large Bust Model, Rachel (SID custom Doria), is modeling the two Robe Battante with the Habotai Silk nightgown underneath; she also models the silk nightgown alone, and with the plaid skirt. She was painted by Iplehouse, wears glass 12mm eyes, and a Monique wig. My original version Model body EID man, (light brown ltd edition Kamau) is modeling the brocade waistcoat. He was painted by Iplehouse; wears glass eyes and a Monique wig.



"Outlander" Jamie and Claire - Season 2 - Customer Photos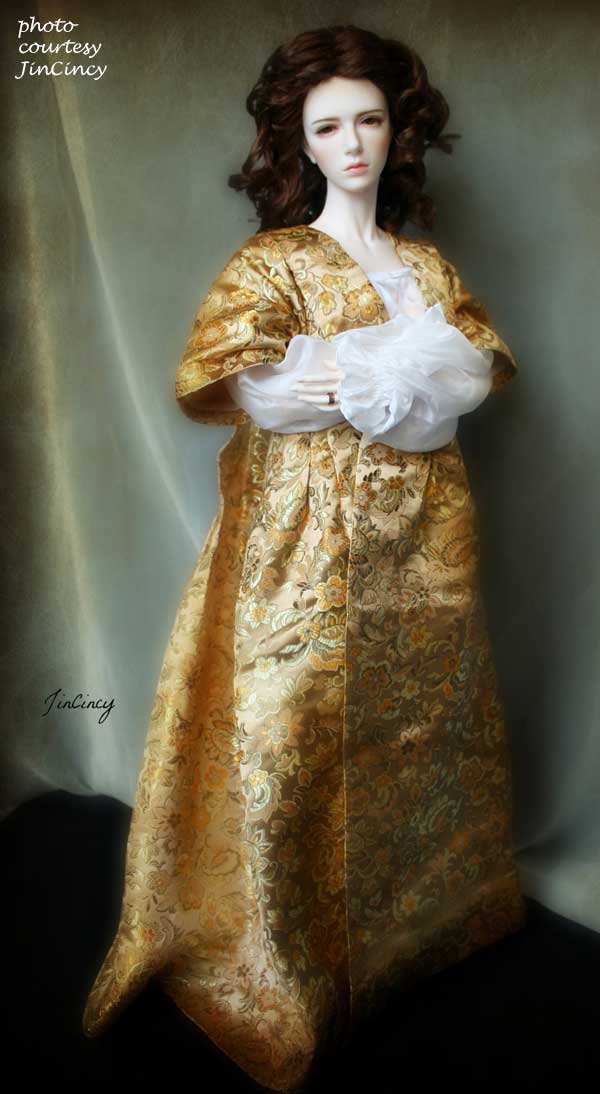 Claire's Gold Robe Battante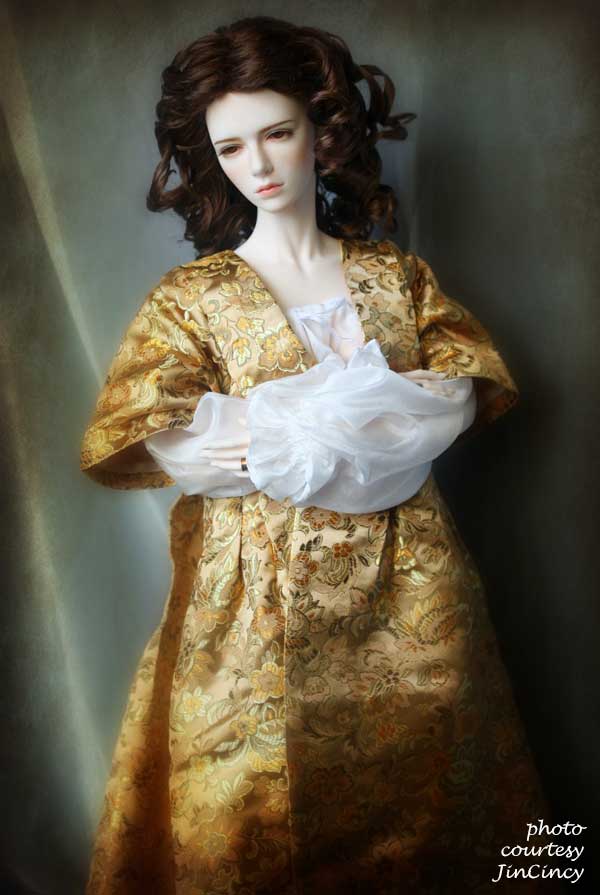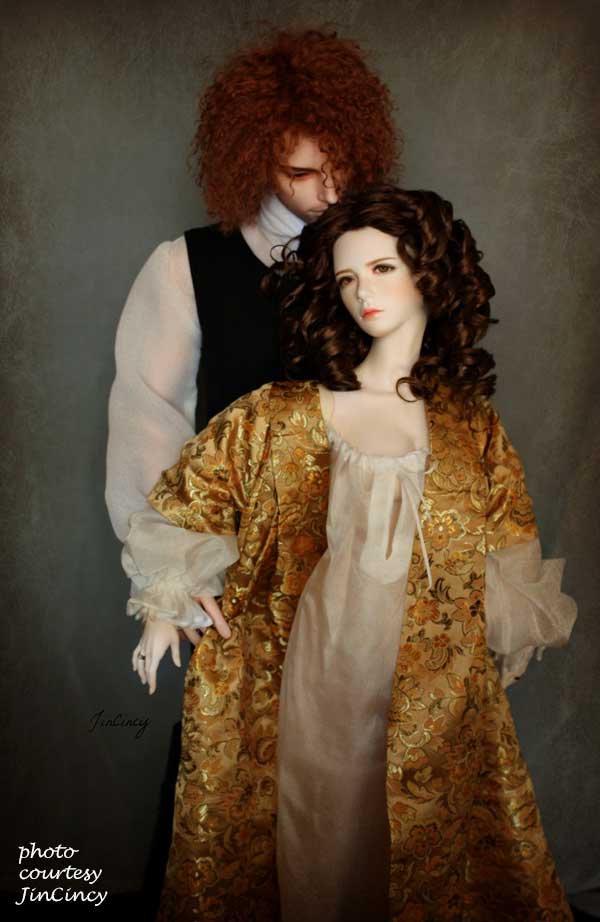 Claire's Teal Robe Battante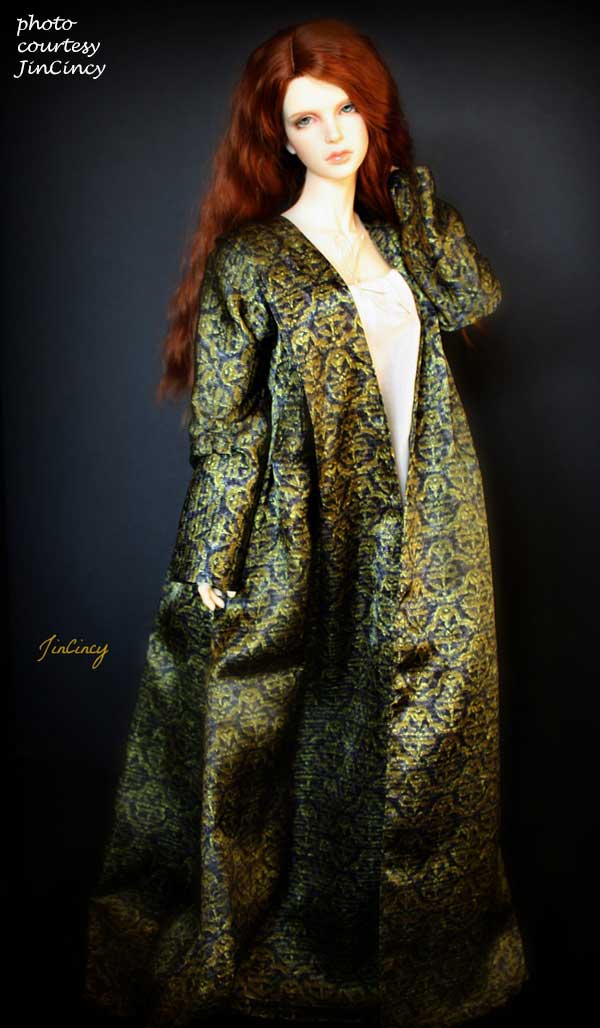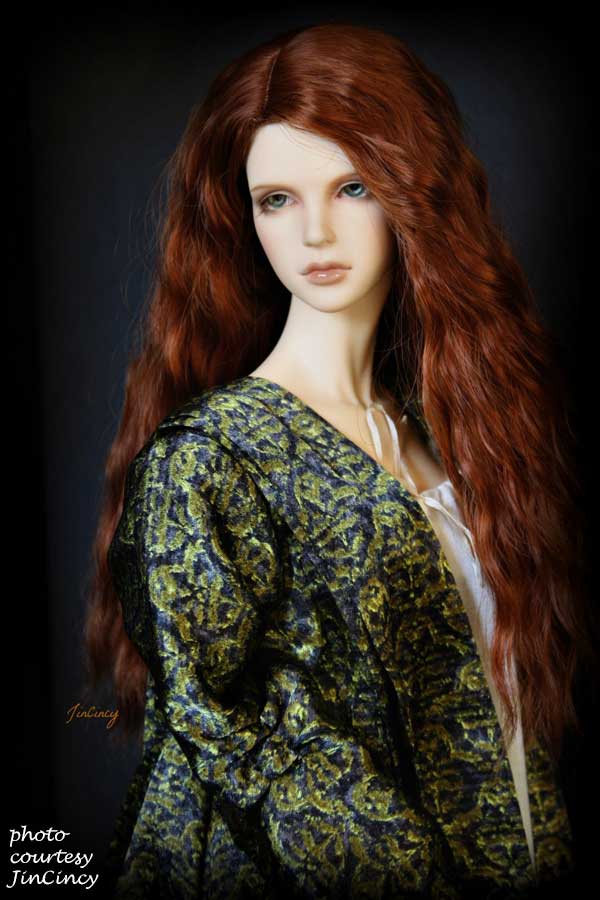 Claire's silk nightgown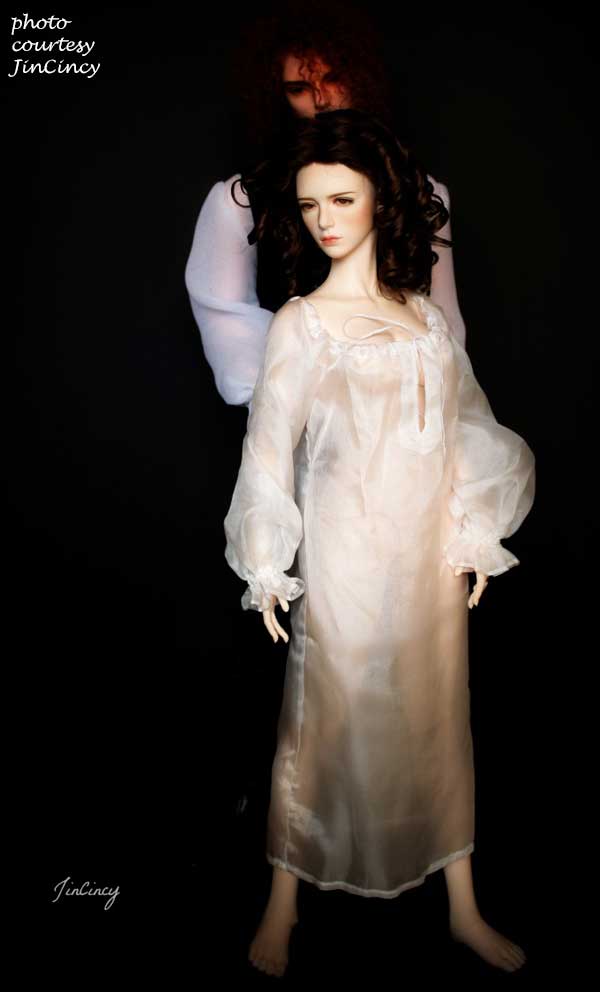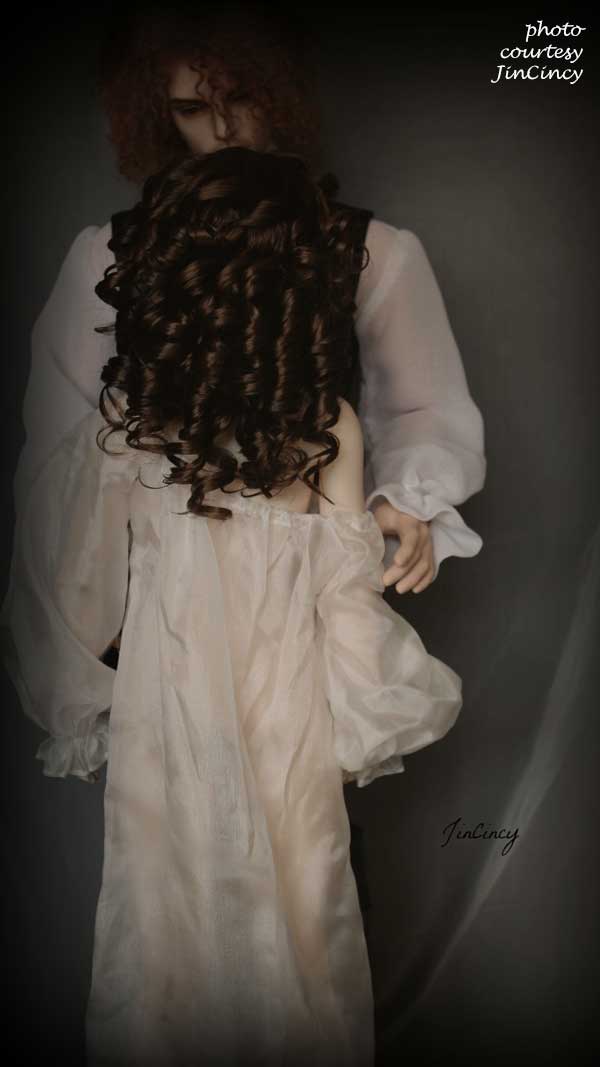 Jamie's Court Waistcoat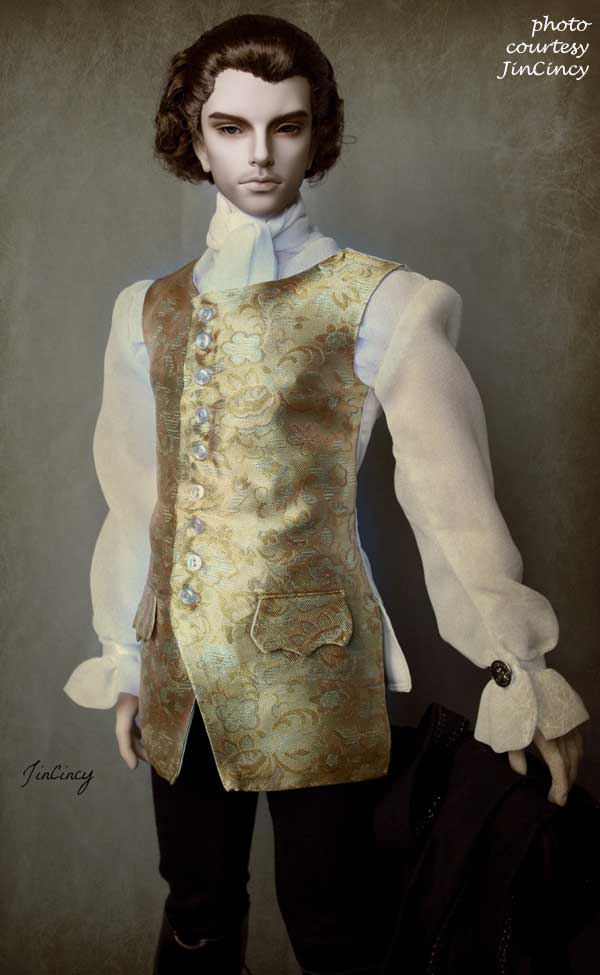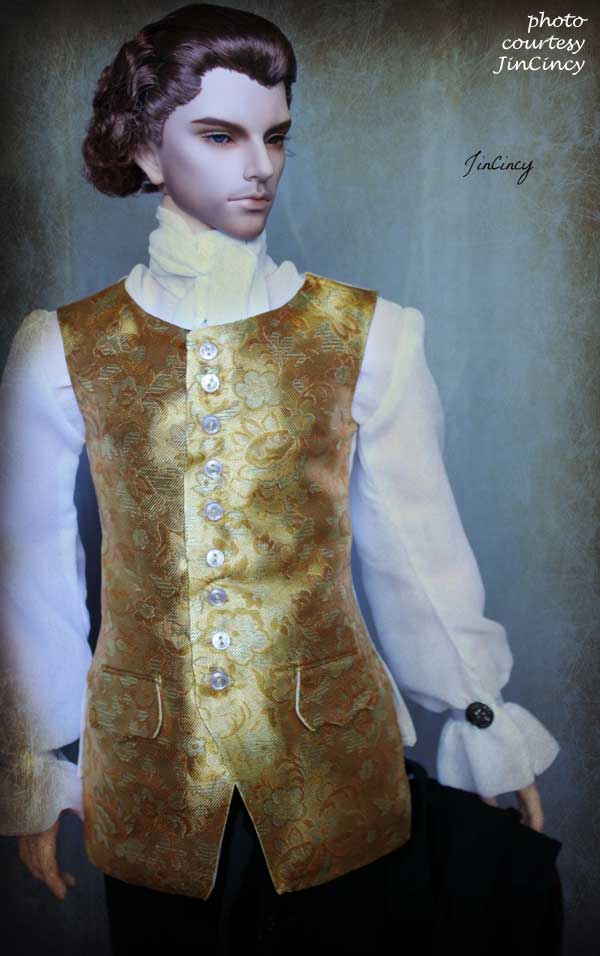 SID Robe Battante - Gold Brocade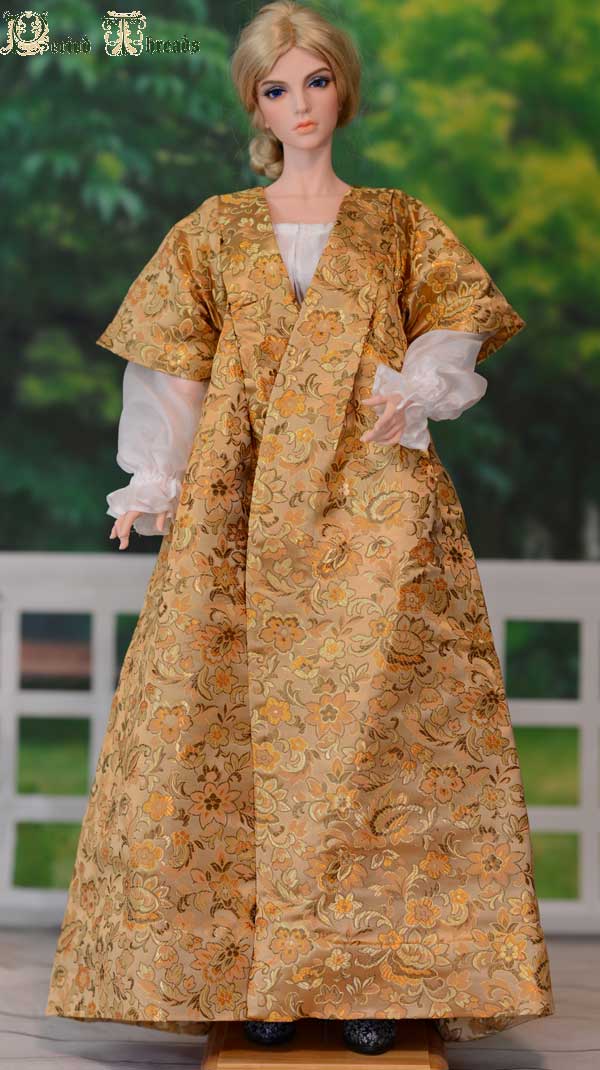 close-up of bodice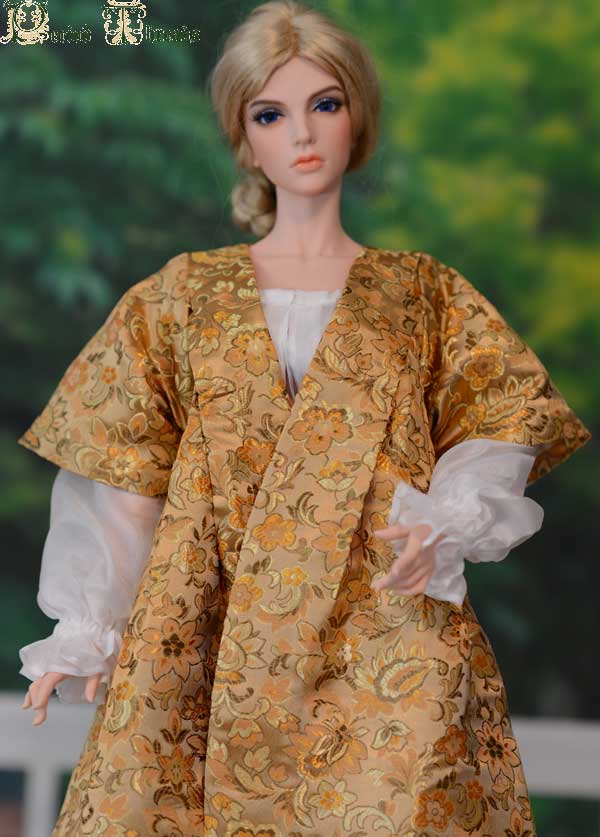 back view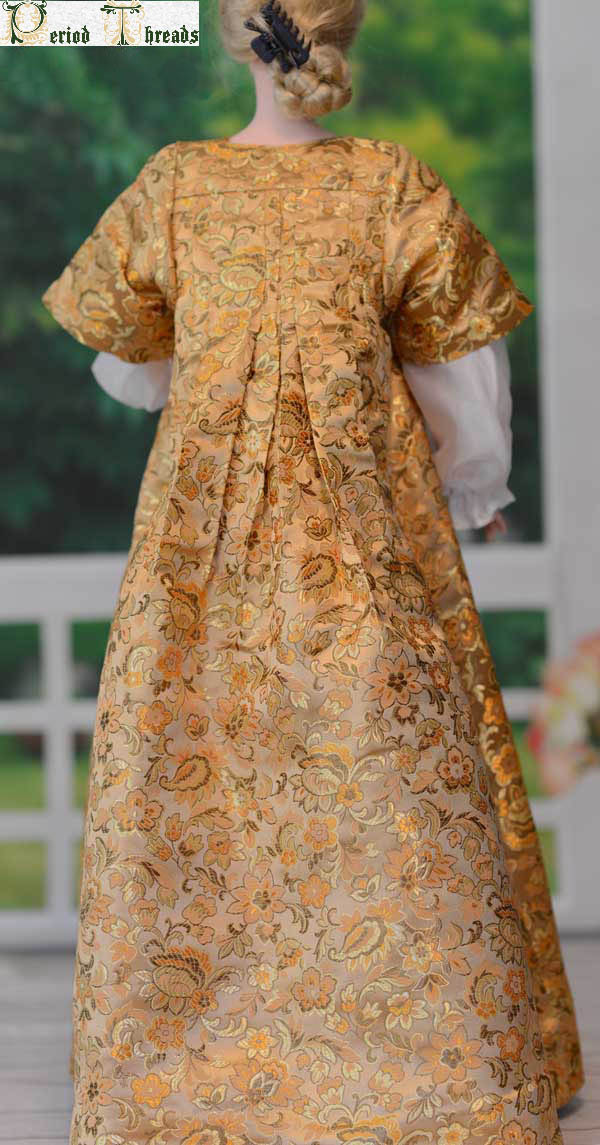 close-up back view of pleats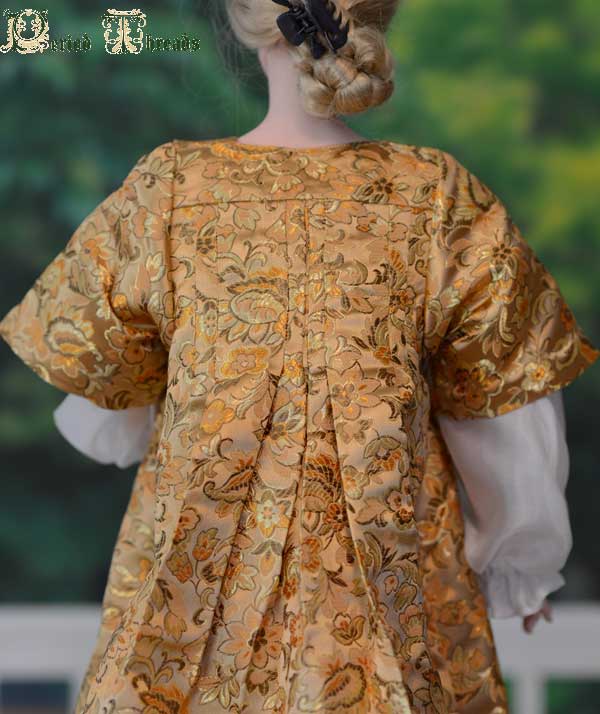 side view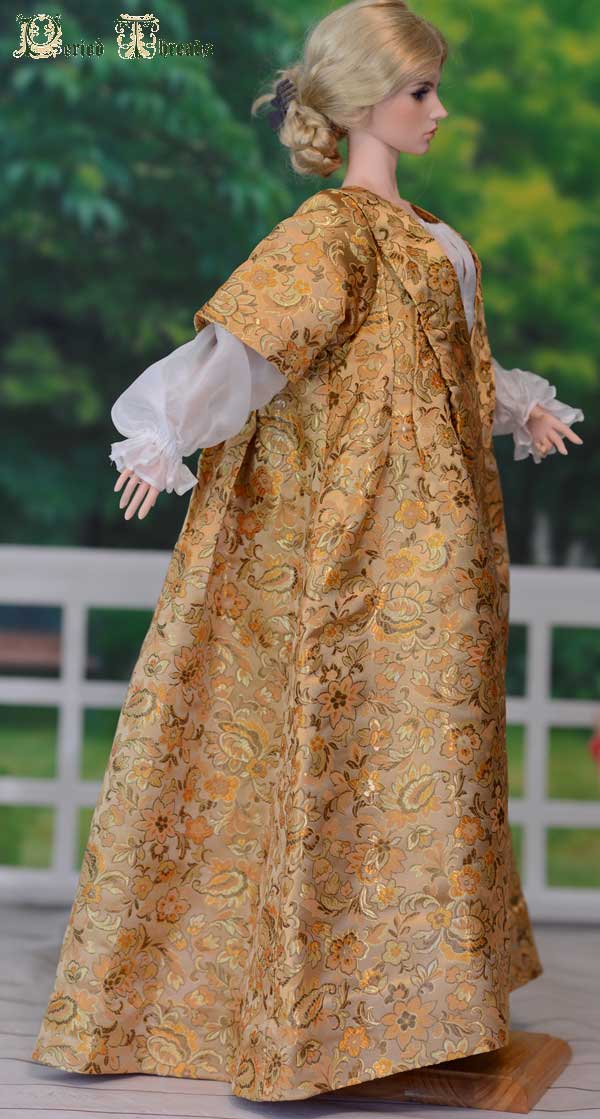 SID Robe Battante - Teal "Brocade"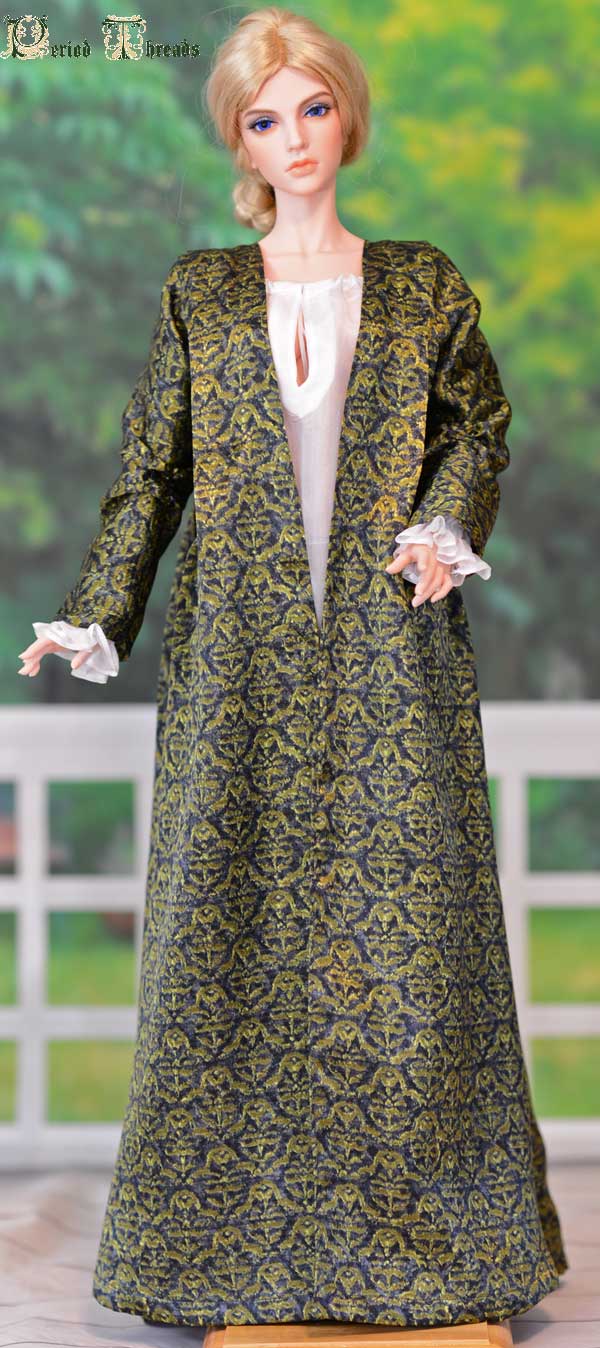 close-up of bodice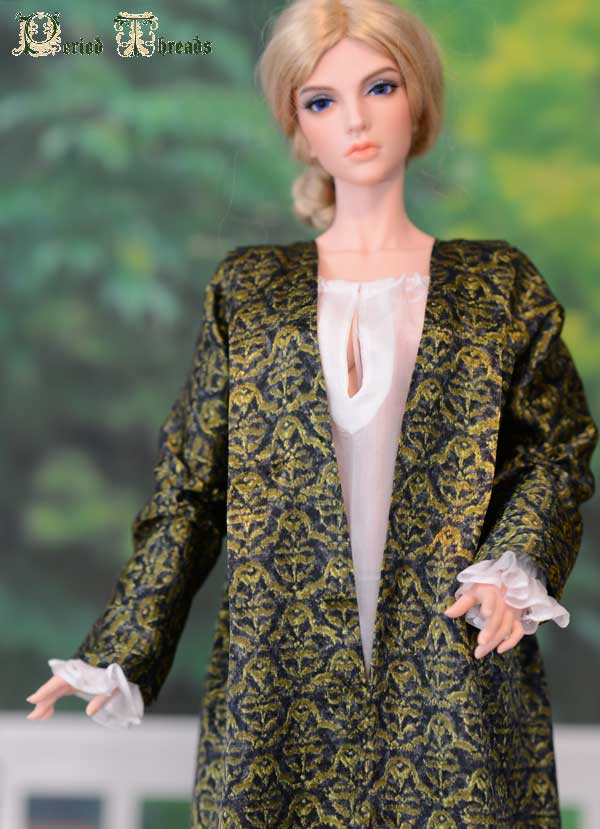 side view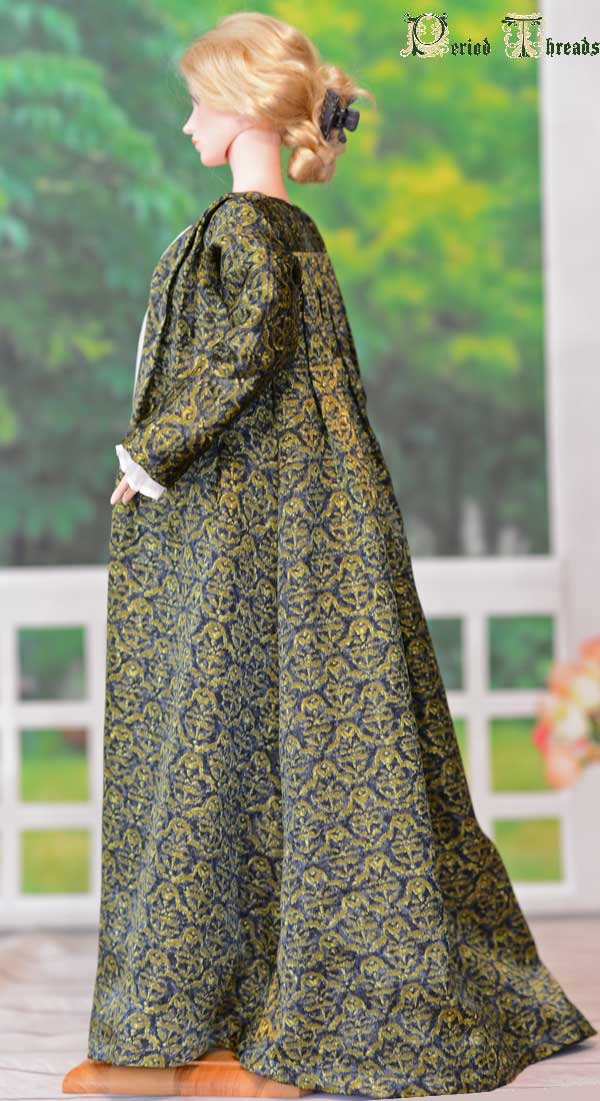 back view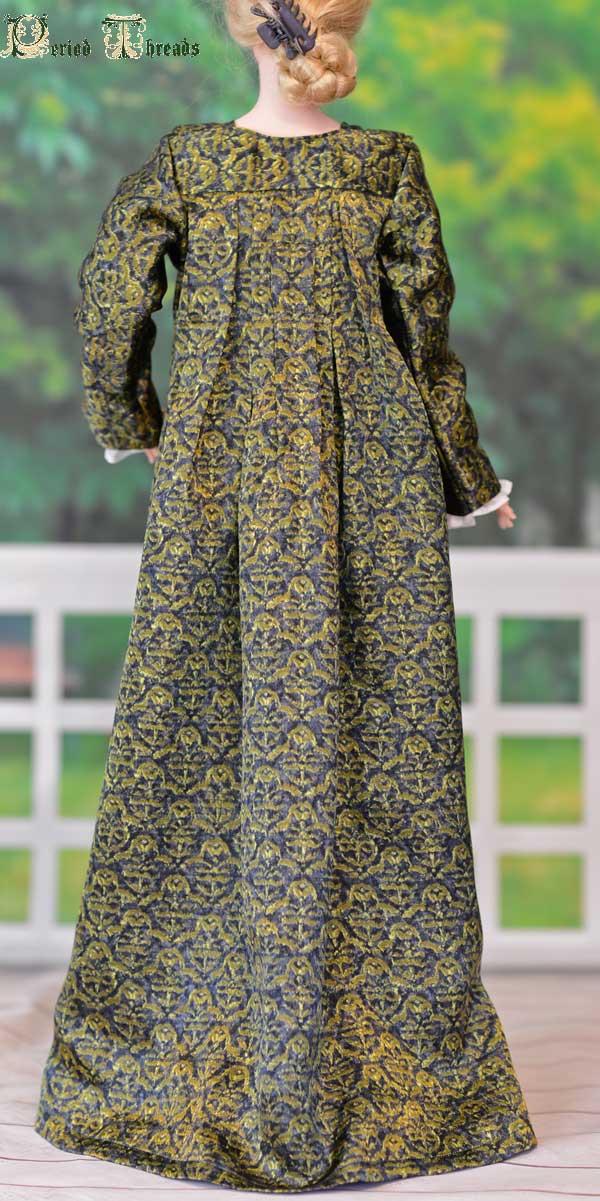 closeup of back pleats


SID Habotai Silk Nightgown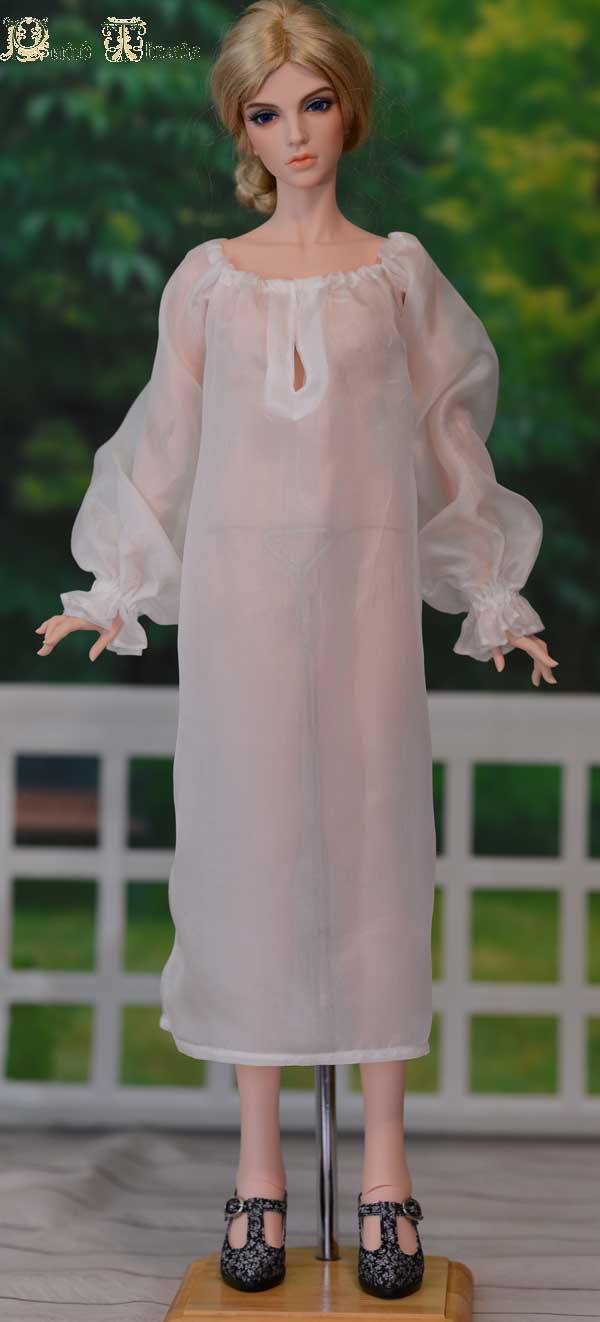 close-up of gathered sleeve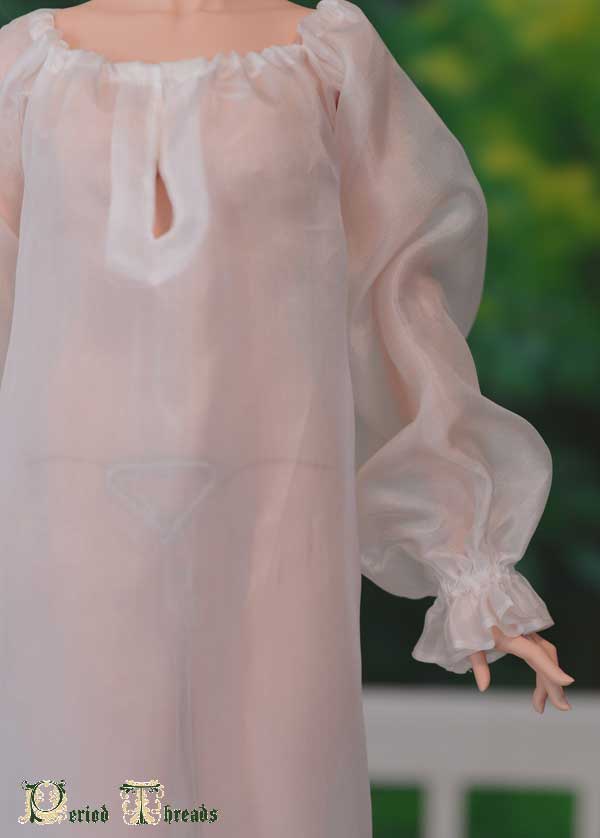 side view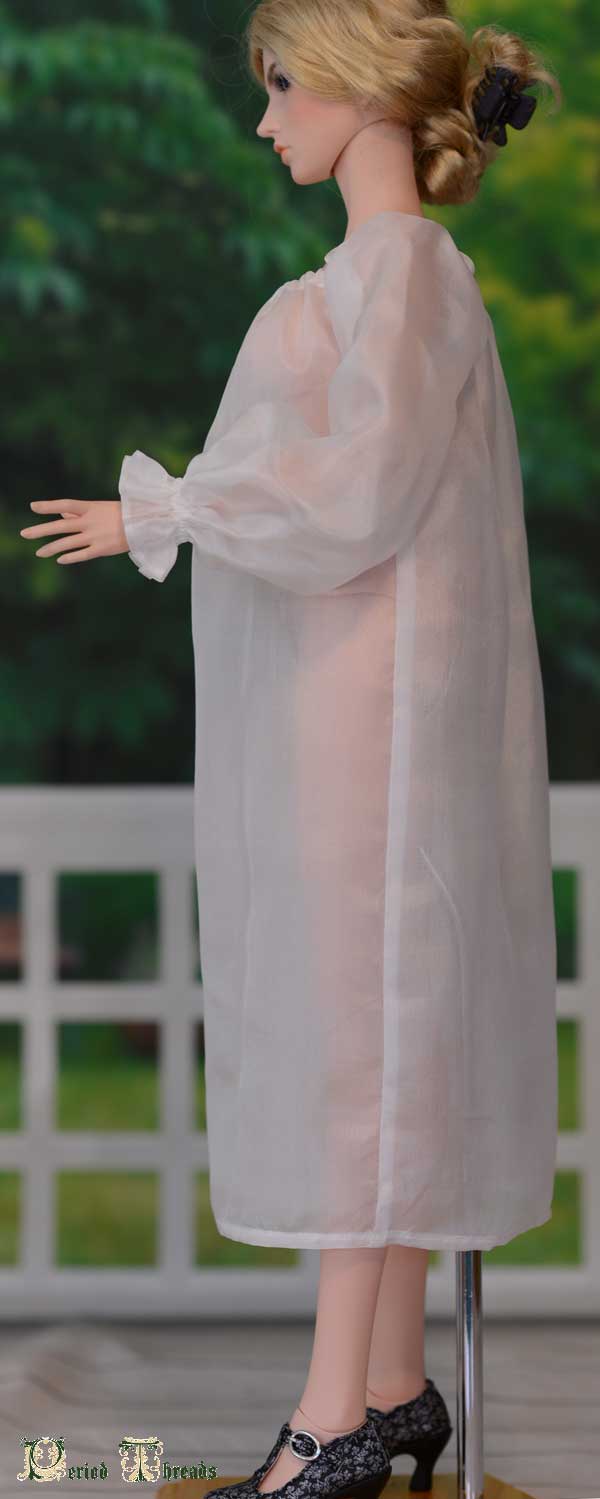 back view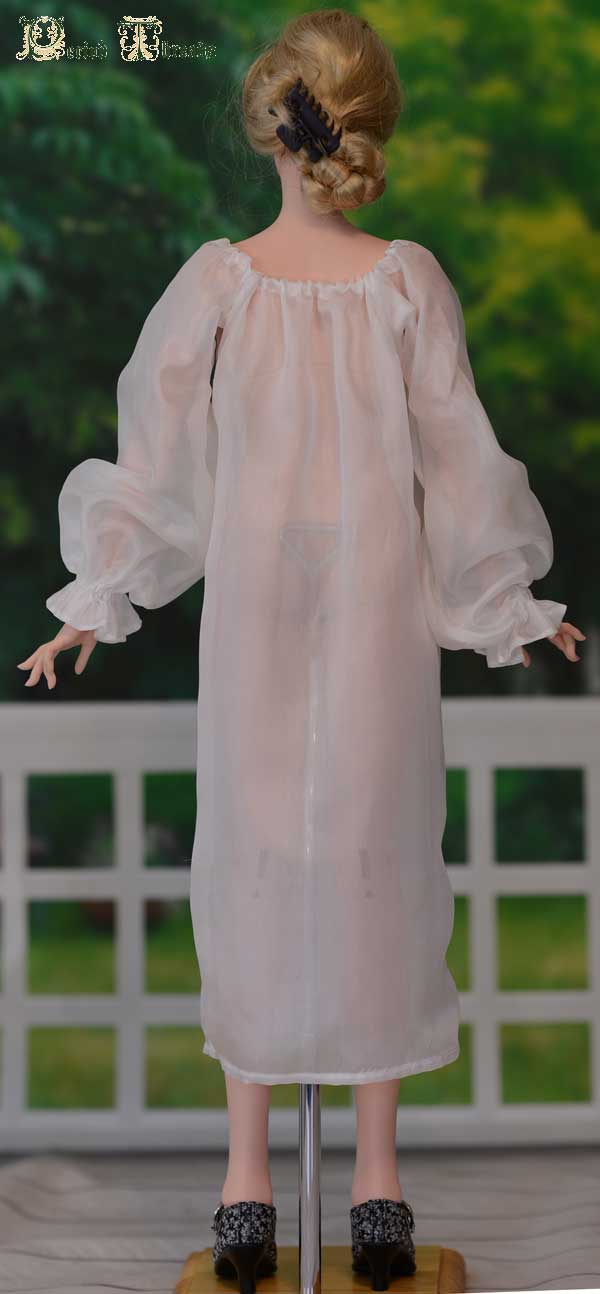 Gold Brocade Waistcoat - EID man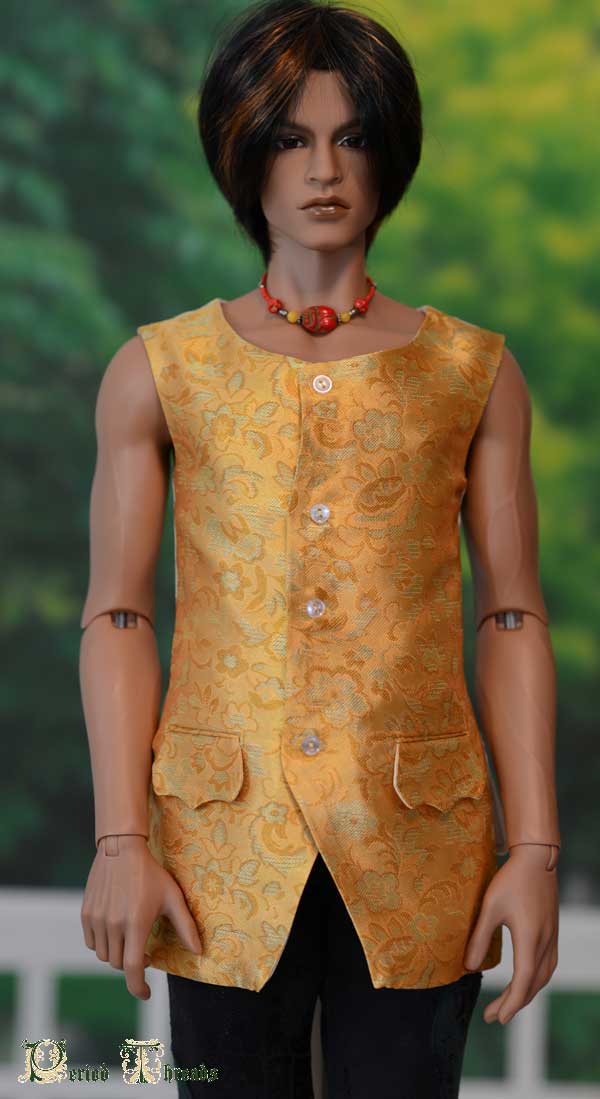 side view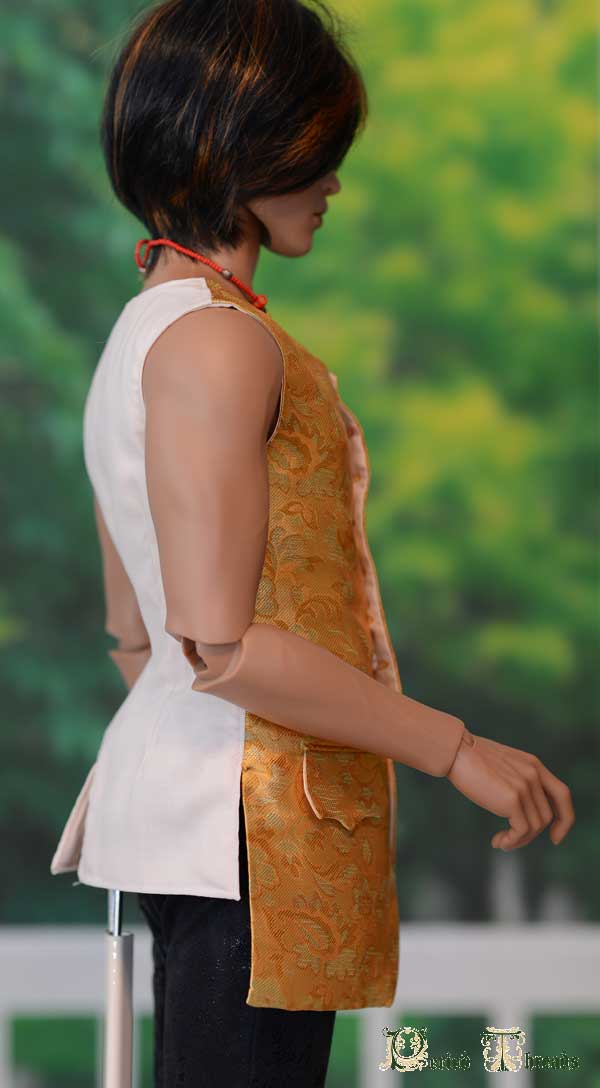 back view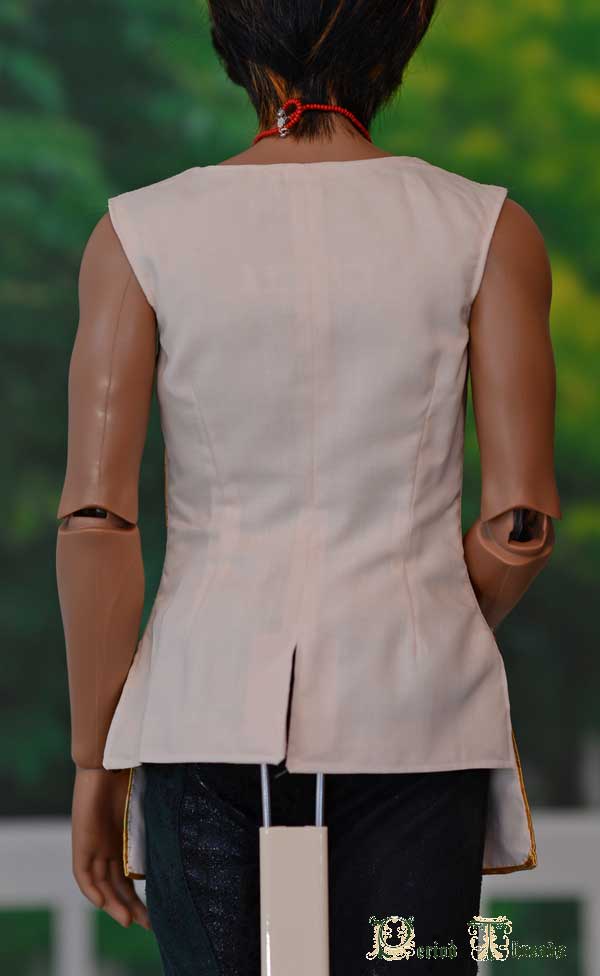 buttons undone



Outlander Plaid Skirt - SID woman