nYID Princess Allura Commission Oct17


This commissioned gown was based upon the Princess Allura costume from the animated series "Voltron: Legendary Defender".

The Princess Allura inspired costume has four separate pieces: bodysuit, skirt, bustier, and capelet. It was sized for a medium bust Iplehouse nYID doll.

The white collarless bodysuit was sewn with dance fabric. The fitted lower sleeves are a lightweight powder blue stretch fabric. The sleeve comes to a point over the hand. At the upper arm and wrist, bands of gold metallic stretch fabric are attached, with a small snap to close the band once the bodysuit has been donned.

The floor length five-gored skirt was made with crepe-back satin. The front panel is a powder blue. The four white gores were edged with a wide dusty pink satin. The narrow waistband closes with a snap.

The fitted bustier was sewn with royal blue dance fabric and self lined. Gold metallic stretch fabric was used for upper and lower borders. The bustier was lined in lightweight stretch fabric. The back closes with three snaps.

The wing-draped capelet was created with royal dance fabric. The winged drapes were lined with pink and white crepe-back satin. Floriani embroidery thread was used to embroider the join of the pink and white satin. The upper capelet was self-lined and was edged with gold metallic stretch fabric. The capelet has four small Swarovski crystals at the front collar. The capelet closes at the front collar with a black hook/eye.

My Iplehouse nYID Safiya (Isis normal resin) is modeling the Princess Allura costume. Safiya is in her heel feet wearing Iplehouse heels.



Princess Allura inspired costume - four pieces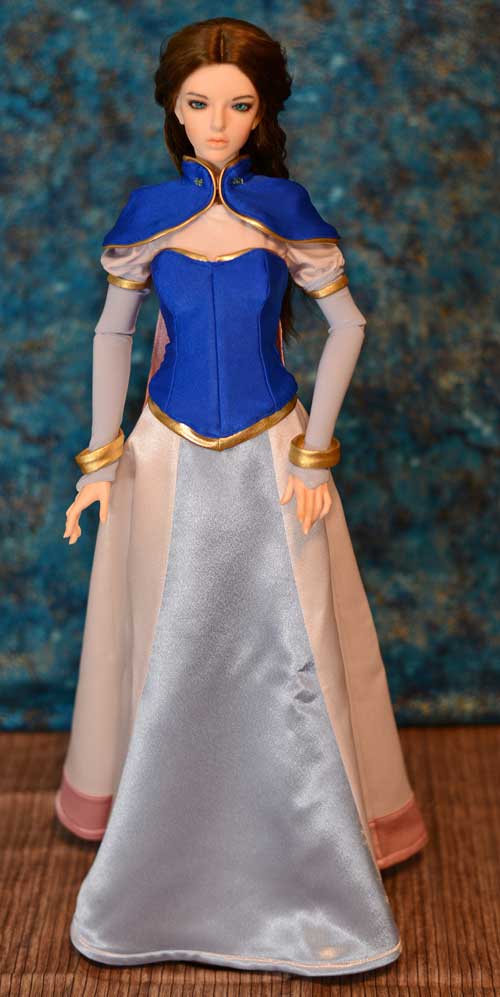 closeup bodice view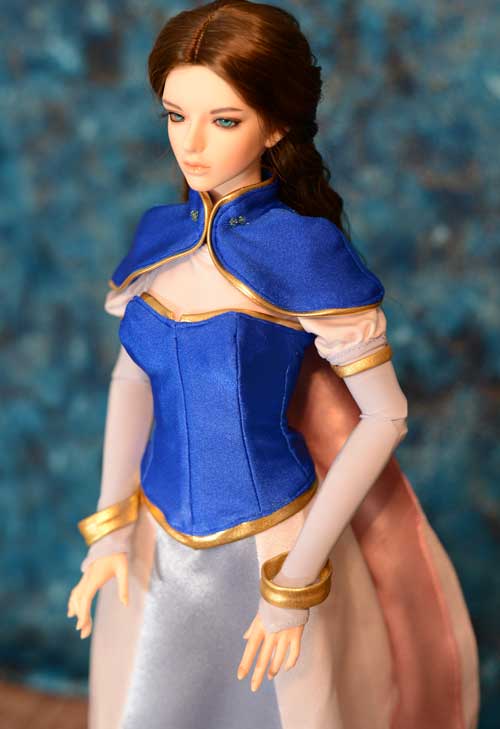 side view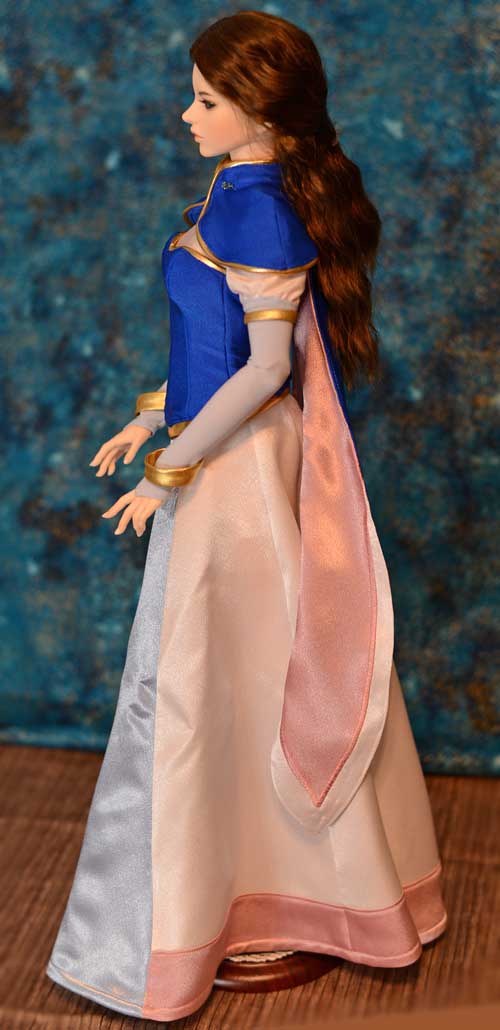 back view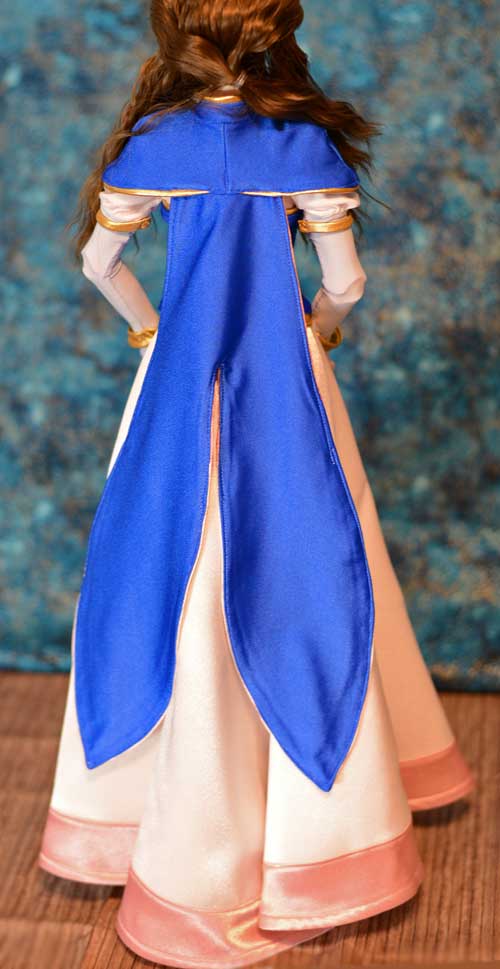 holding a wing-drape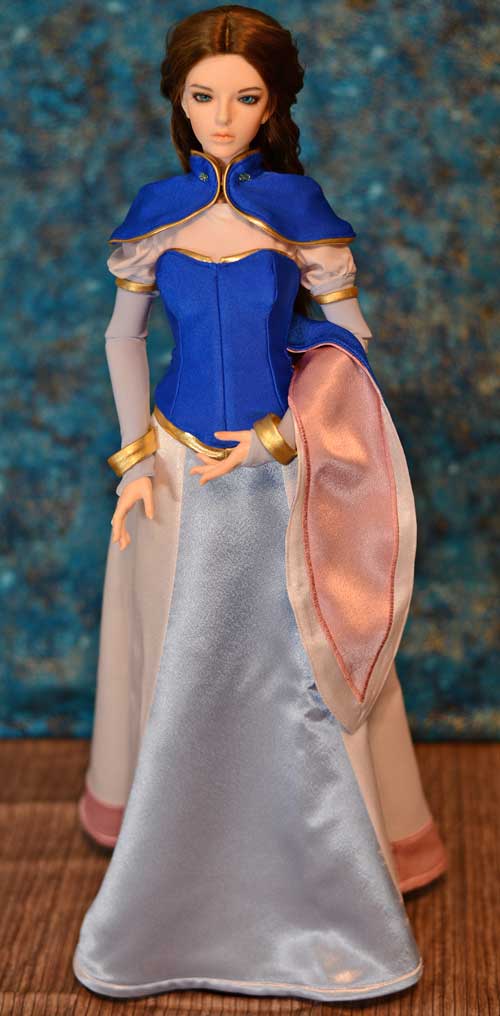 Princess Allura - bodysuit


side view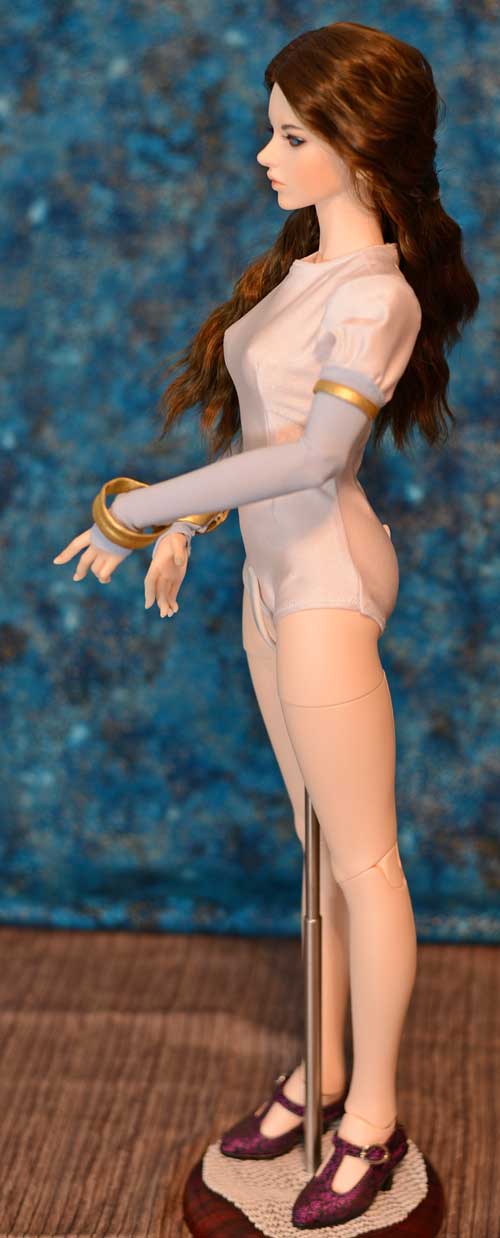 other side view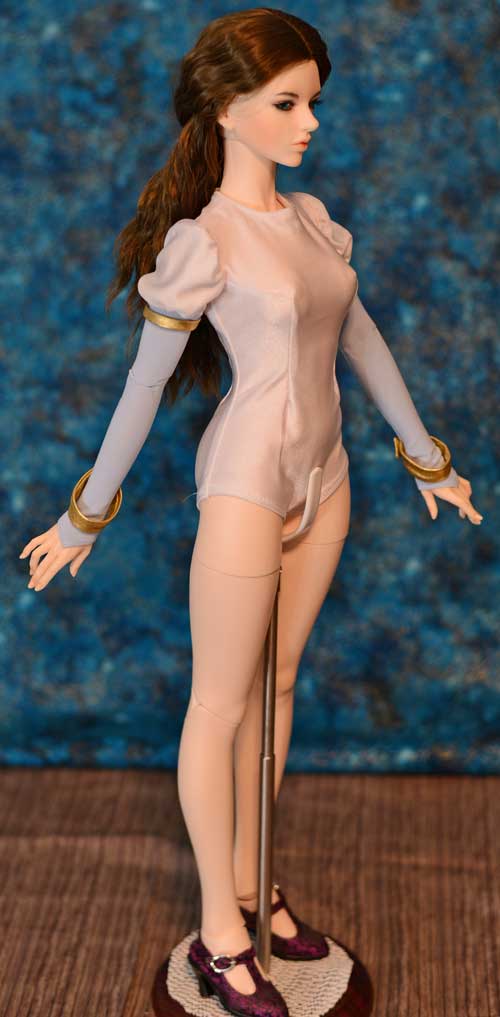 golden bands unsnapped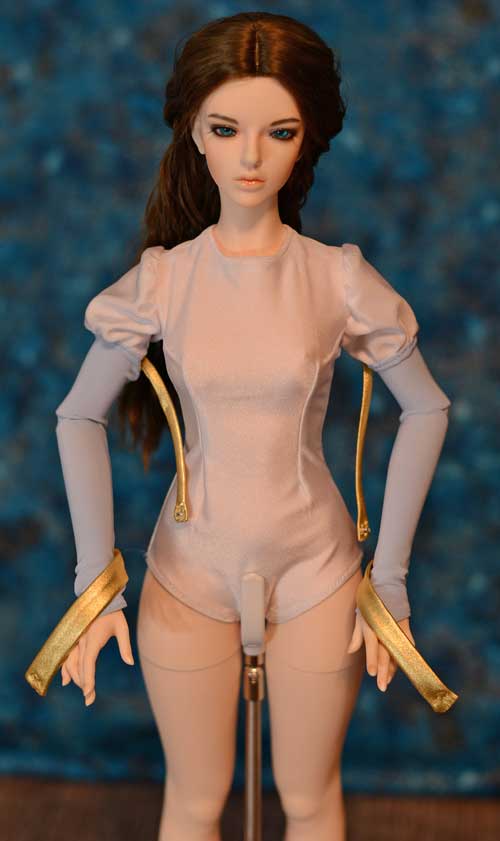 Princess Allura - skirt w/bodysuit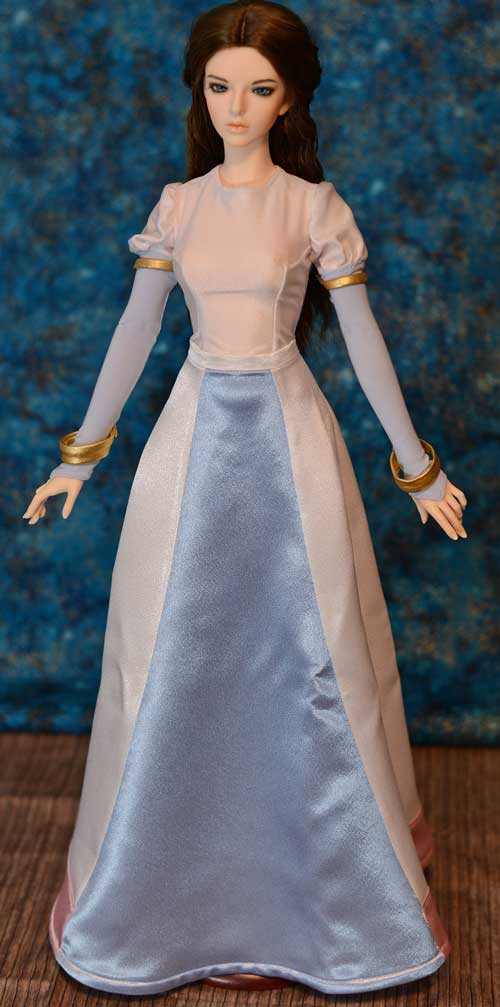 side view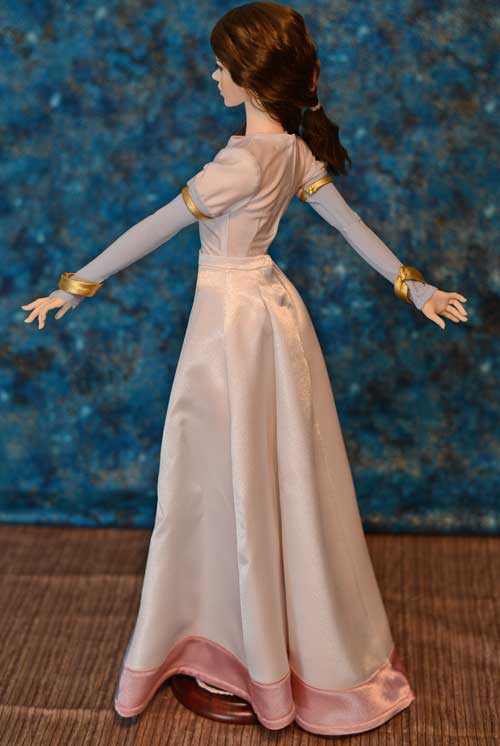 Princess Allura - bustier w/skirt/bodysuit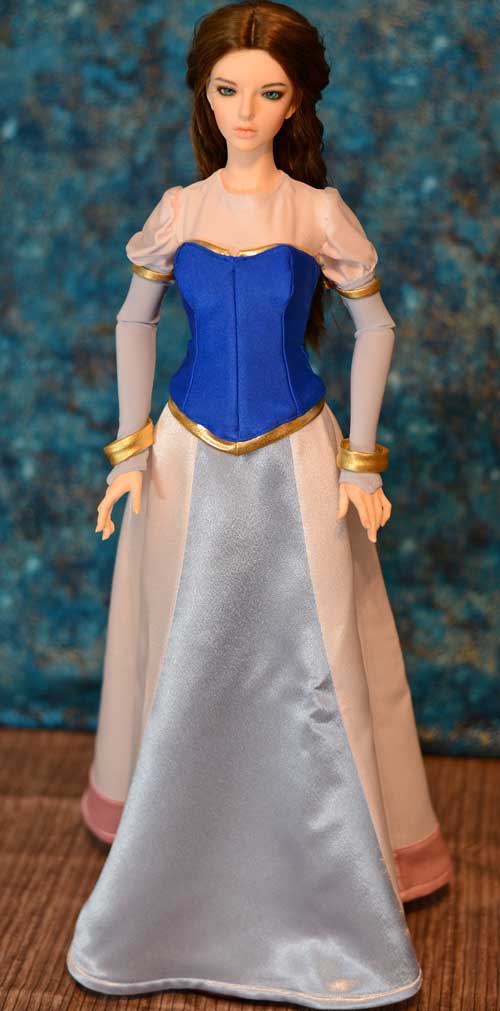 3/4 view from above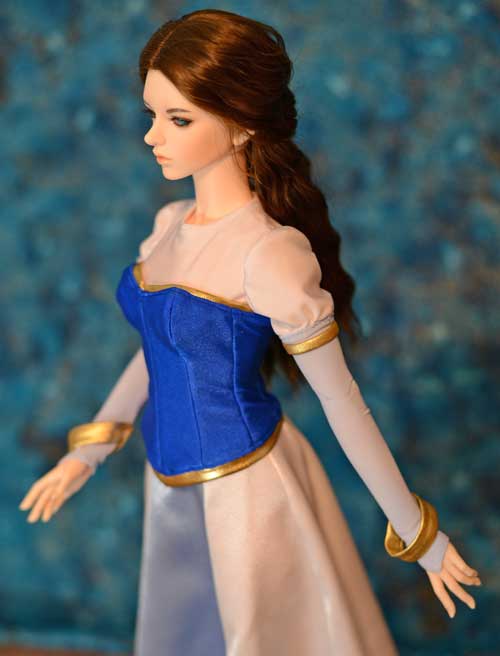 back view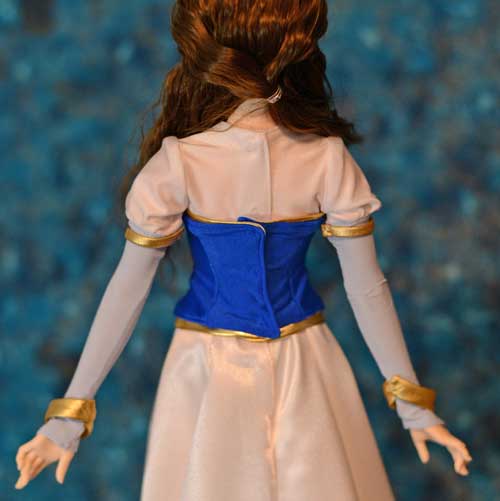 Princess Allura - draped capelet closeups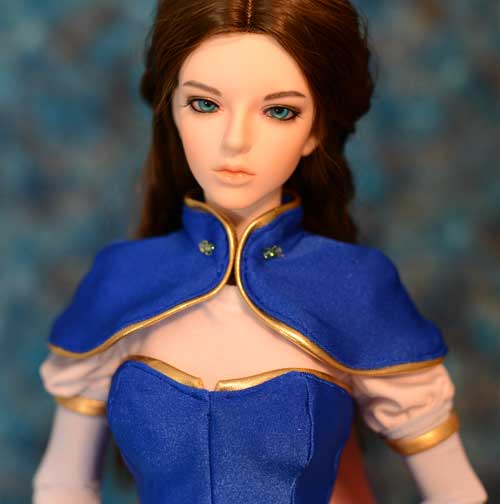 lying on table