SuperGem "Vanessa Ives" Inspired Commission - 9Dec16


This commission was for a "Penny Dreadful" Vanessa Ives inspired outfit for the Soom Super Gem gal. This commission consisted of seven pieces. The customer wished to have a snug fit over the arms, so the coat and long sleeved blouses must have the doll's hands removed to put them on/off.

The long gray Vanessa Ives inspired coat was made with imported lightweight wool fabric. The black details at the collar, lapel and wrist were sewn with black suedecloth. Madiera embroidery thread was used. The coat has working pockets with edging of black embroidery. The coat is fully lined in silver silkessence fabric.

The white blouse was made with batiste fabric and French cotton lace insertion down the center front as well as each slender long sleeve. The stand up collar was finished with a narrow French lace edging. The sleeves have French lace insertion and edging at the cuff. The blouse closes with snaps.

The sleeveless black under-blouse has the dropped neckline. The black silkessence fabric was fully lined in blue silkessence fabric. The back closes with small snaps.

The black over-blouse was made with fabric from a vintage embroidered mesh woman's blouse. Pintucks were sewn into new black chiffon fabric which lines the wrist points. It was unlined and meant to be worn over the black under-blouse. The back closes with small snaps.

The black five gore Victorian skirt was made with peachskin fabric and is unlined. The back of the skirt has two pleats on each side of center. The skirt's waistband closes with a hook and eye and has a small snap on the placket.

The champagne five gore petticoat was made with vintage batiste fabric and lace. The back was gathered and has a train similar to the skirt. The yoked waistband closes with small snaps.

The pantalets were also made with the vintage champagne batiste. French cotton lace insertion was sewn down the side of each leg, with a band of insertion above the seven rows of pintucks. The hem was embellished with wide cluny lace which is slightly gathered. The waistband has a casing with 1/4" elastic for ease of dressing.

My Soom Super Gem Dia, in heels, models the outfit. My Dia is the original Soom SuperGem body.

Vanessa Ives' Inspired outfit for SuperGem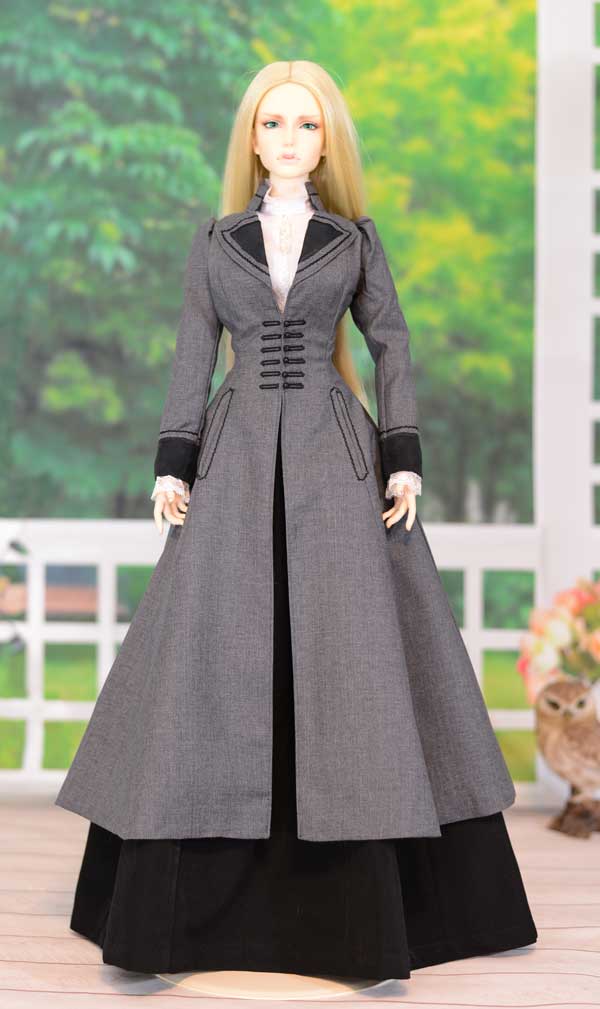 close-up of bodice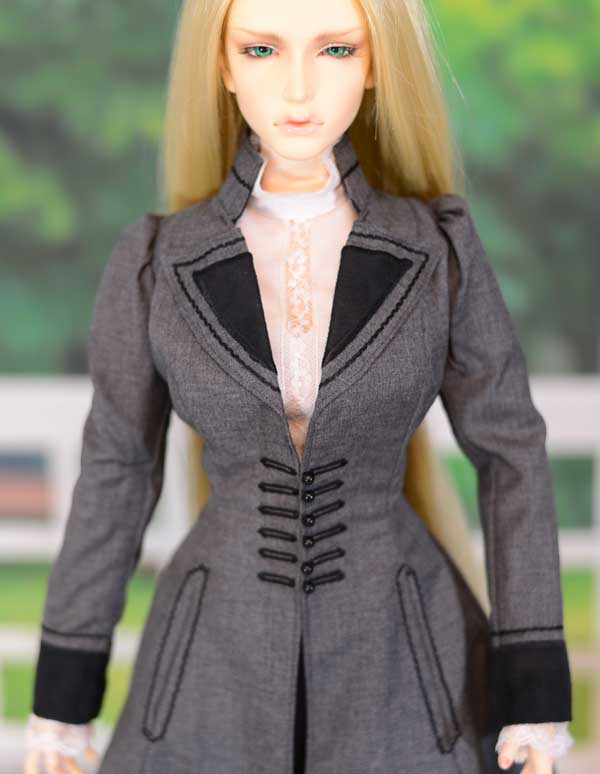 close-up of bodice showing pockets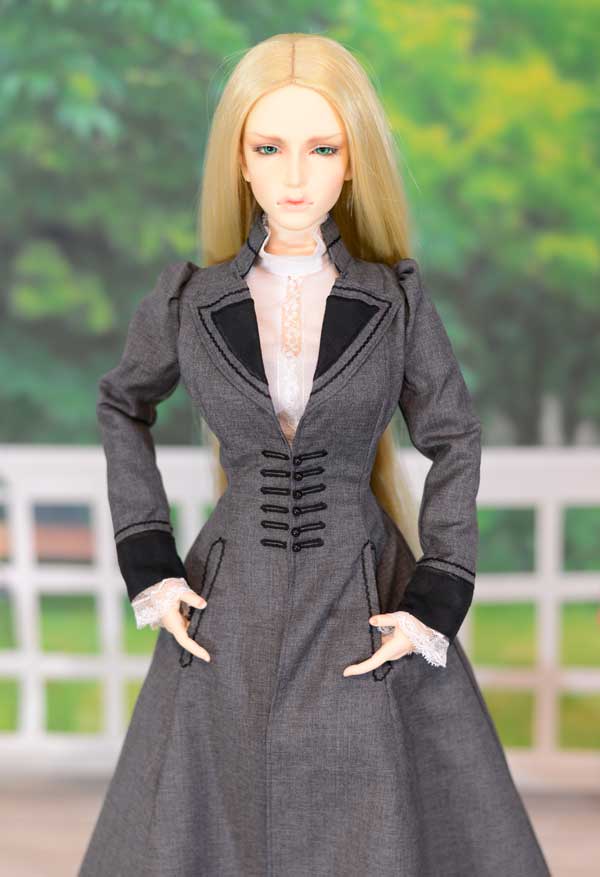 side view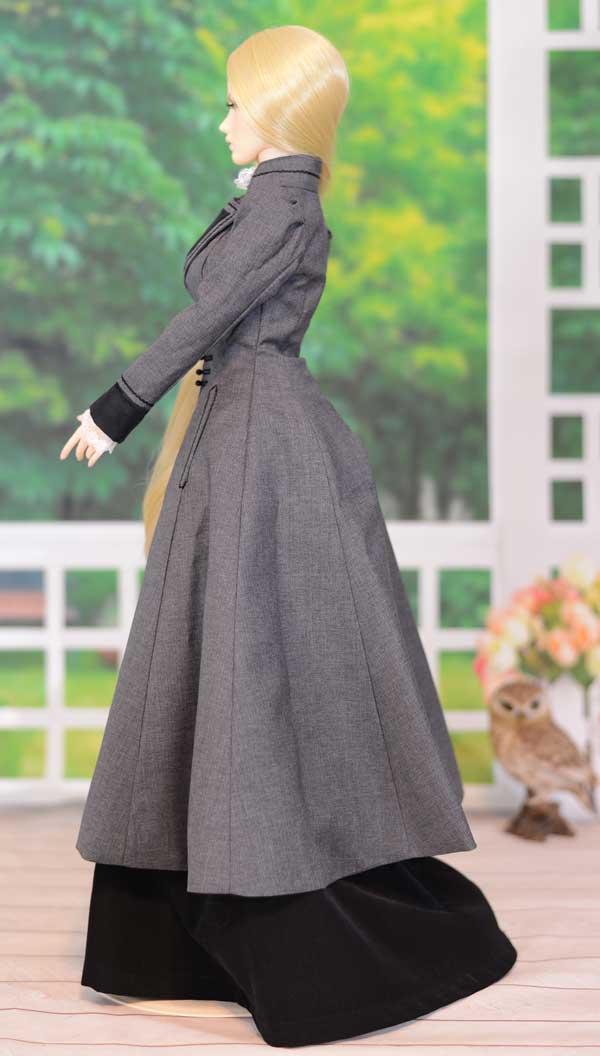 back view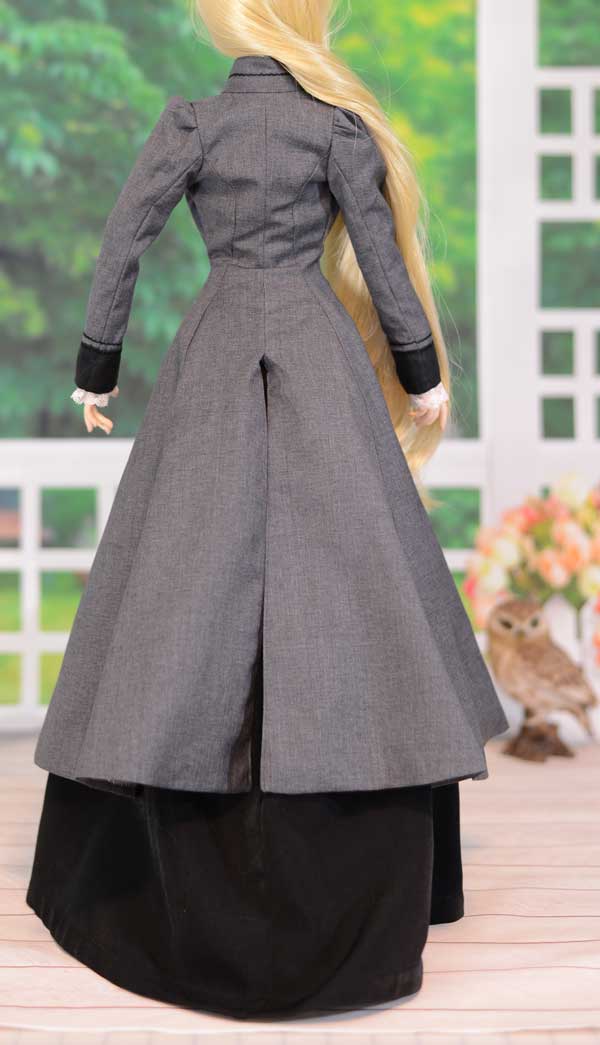 coat front open showing lining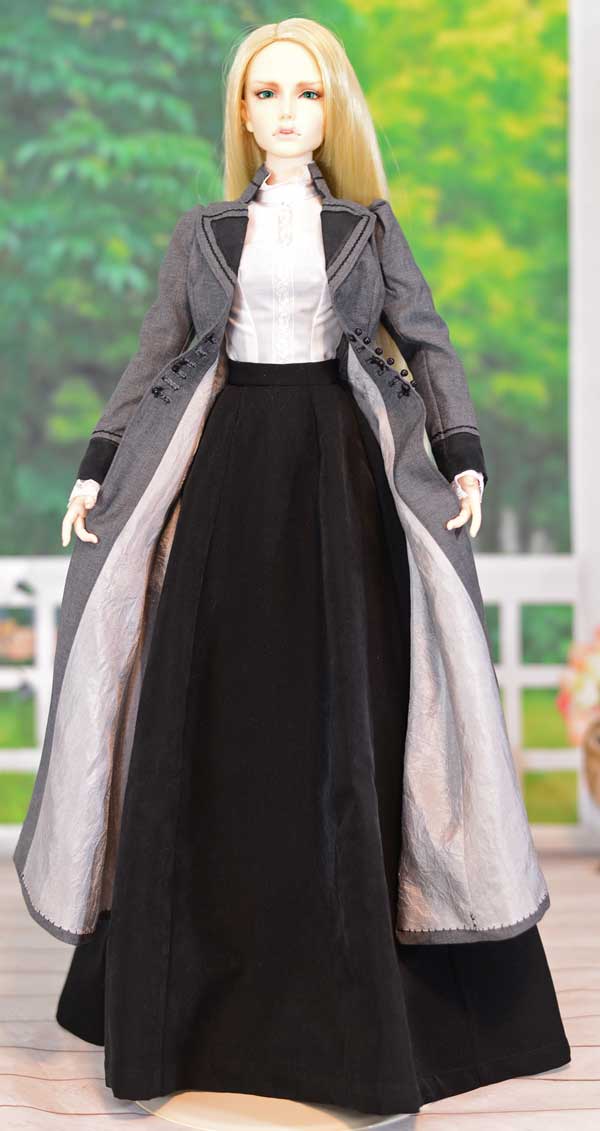 hands off - preparing to remove coat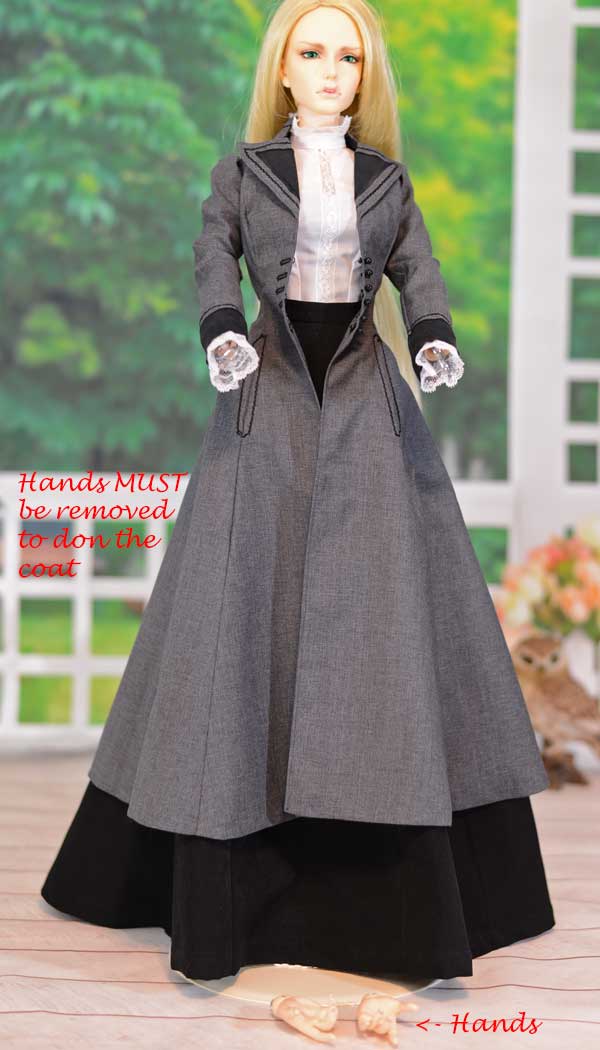 coat lying on cutting table show interior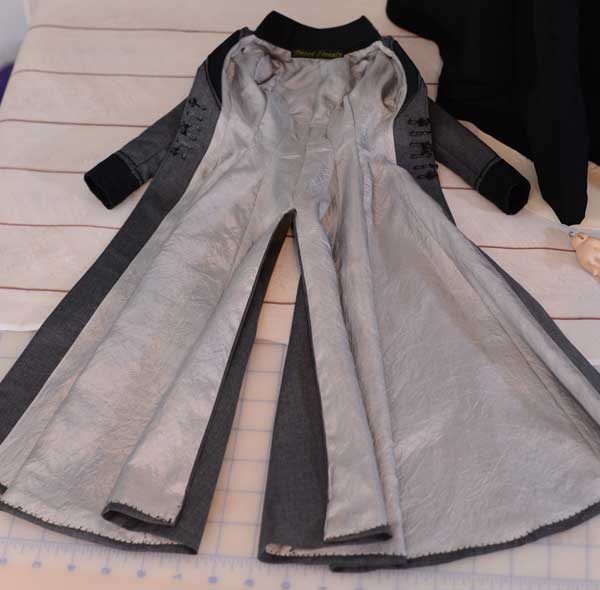 White Batiste and Lace Blouse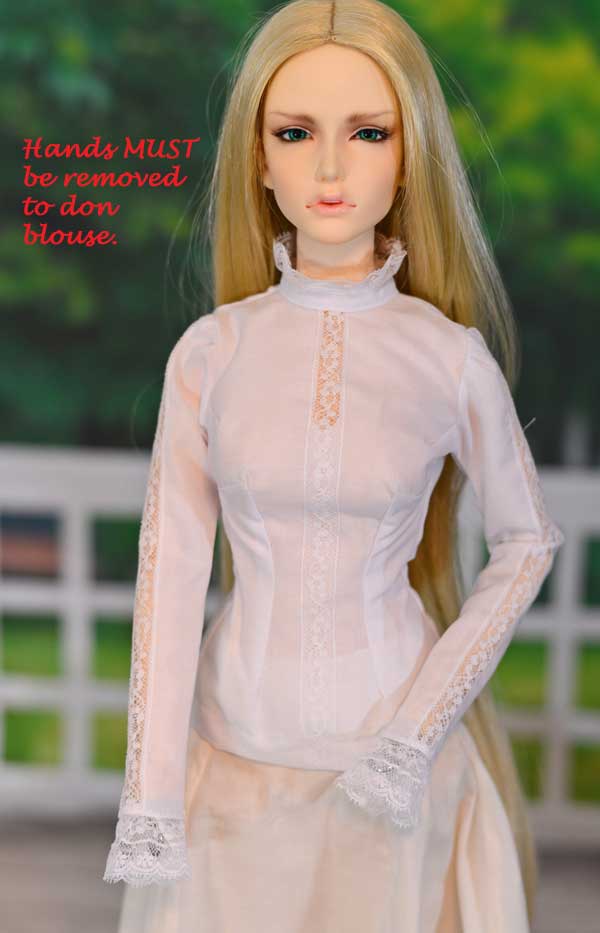 blouse side view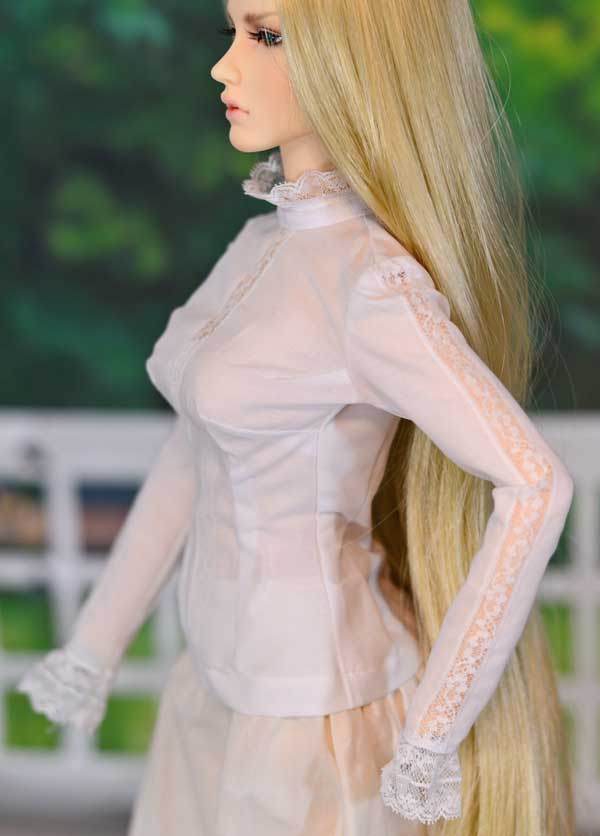 Black Vintage Mesh Over-Blouse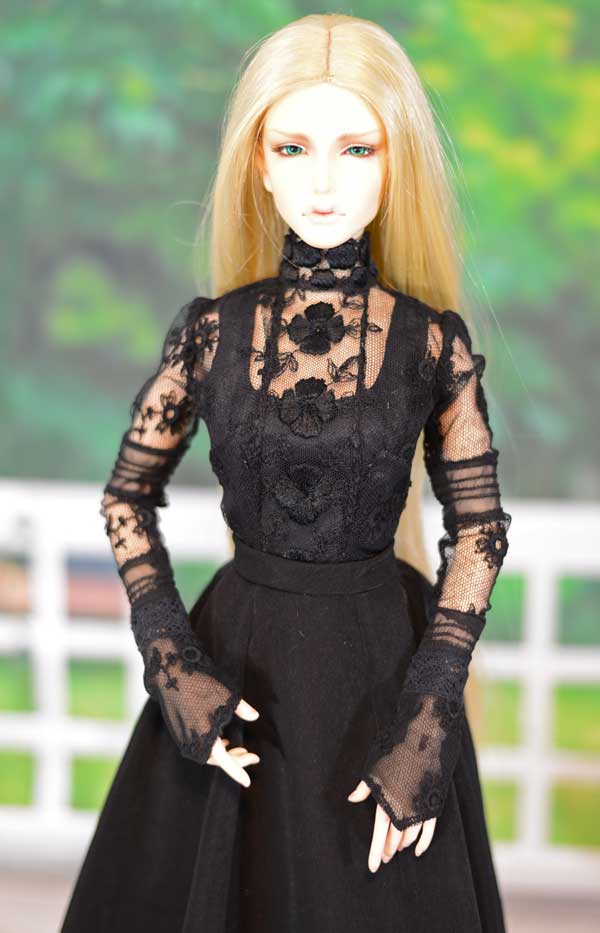 side view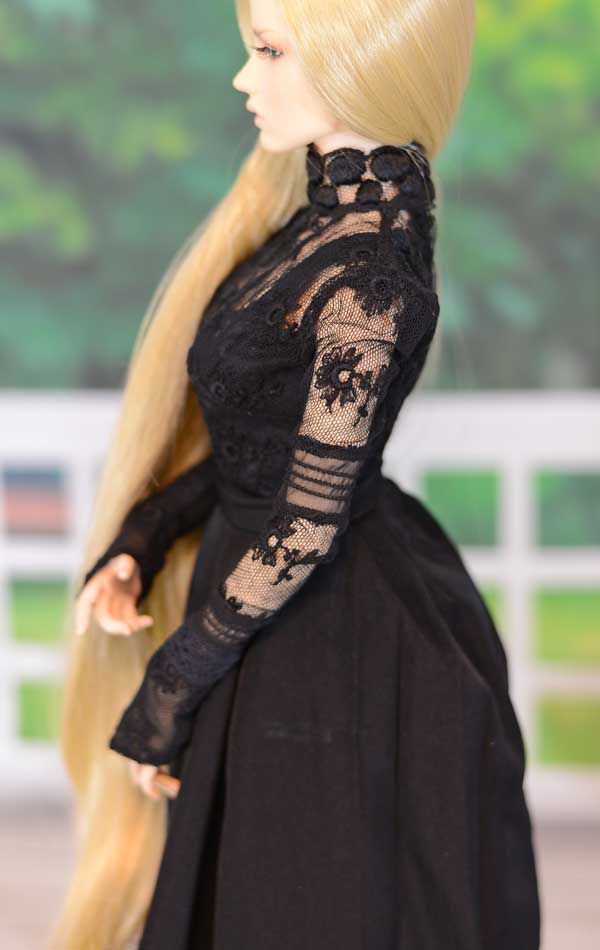 Blouse - hands must be removed to don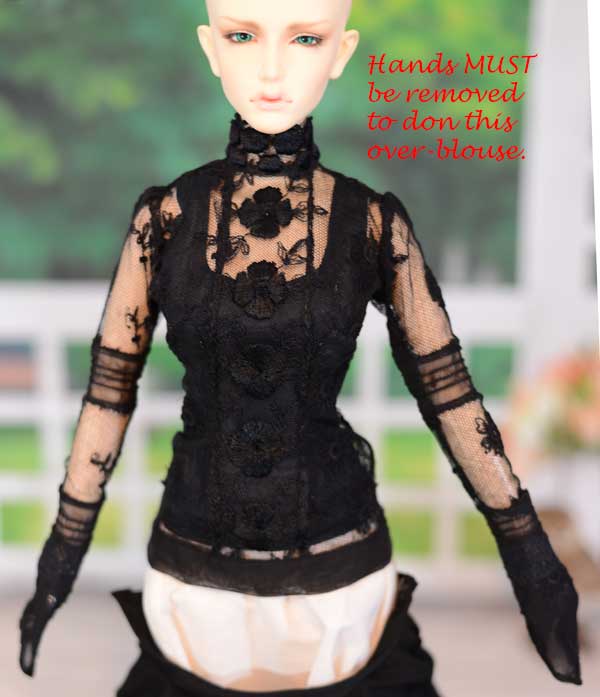 back view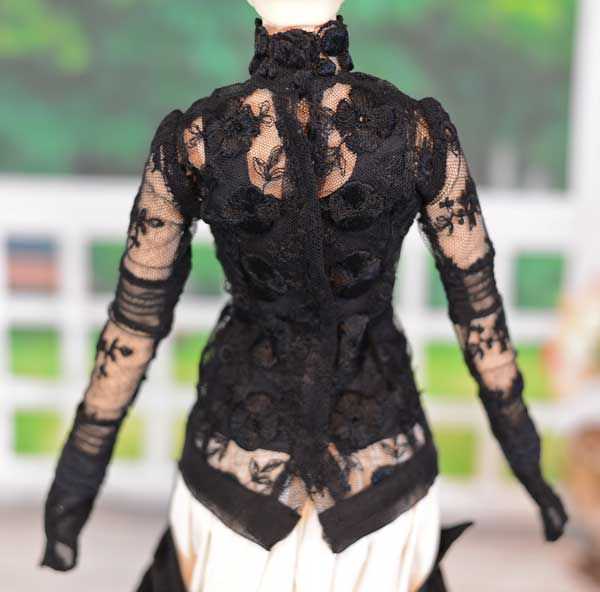 Black Sleeveless Under-Blouse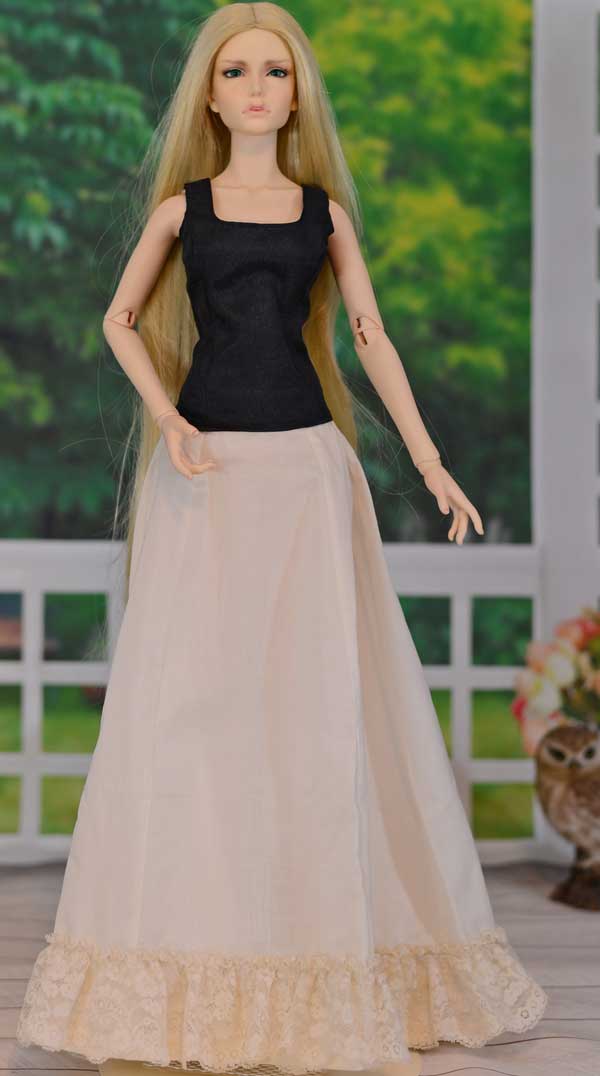 side view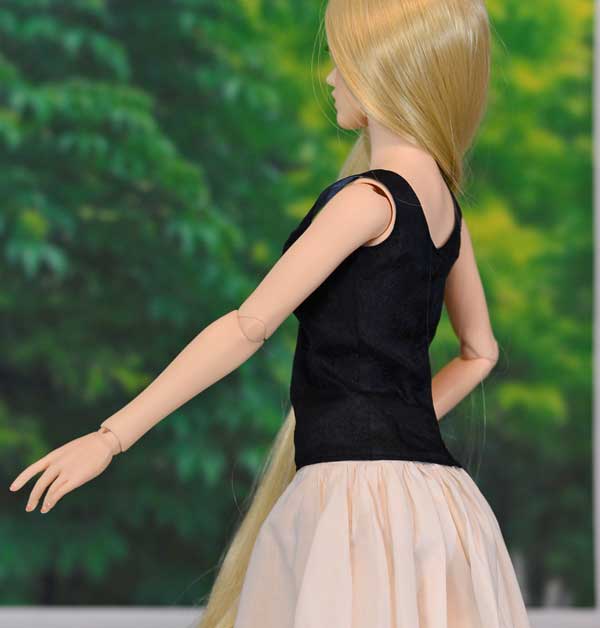 back view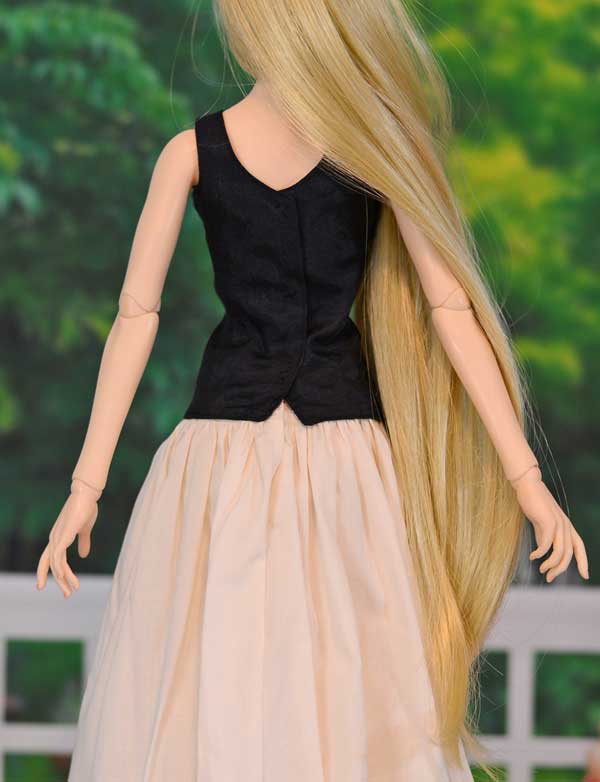 Black Five Gore Victorian Skirt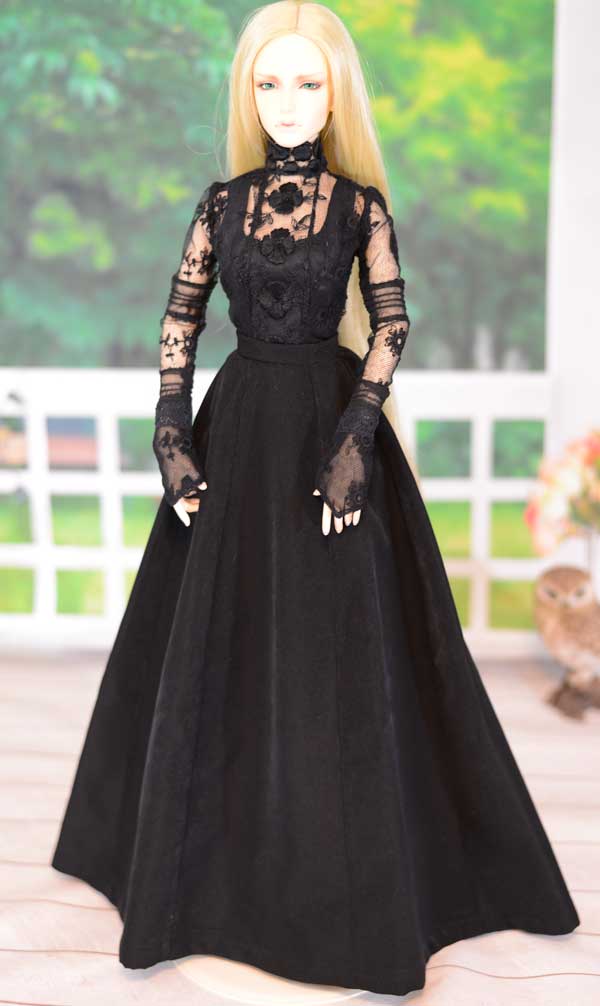 side view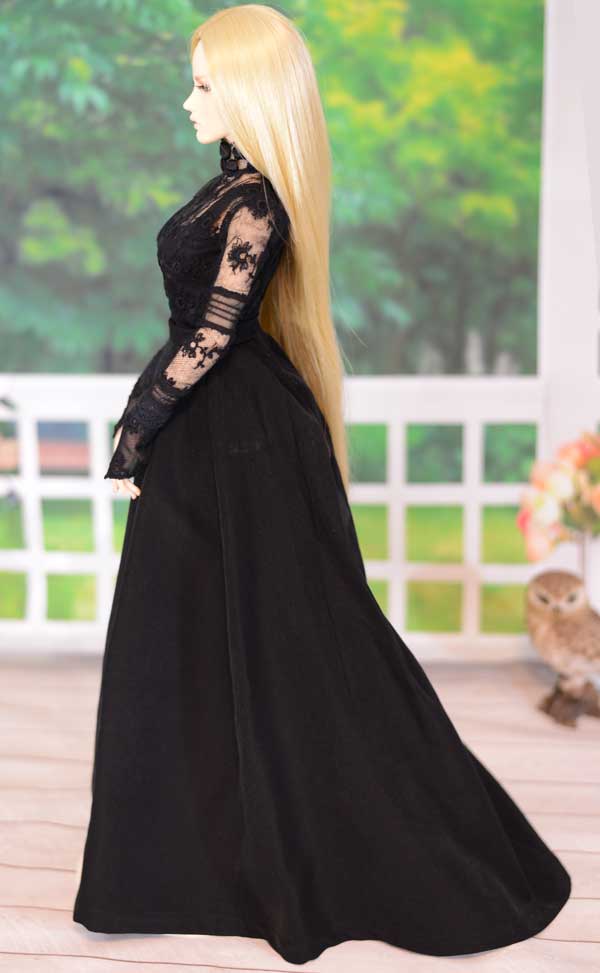 back view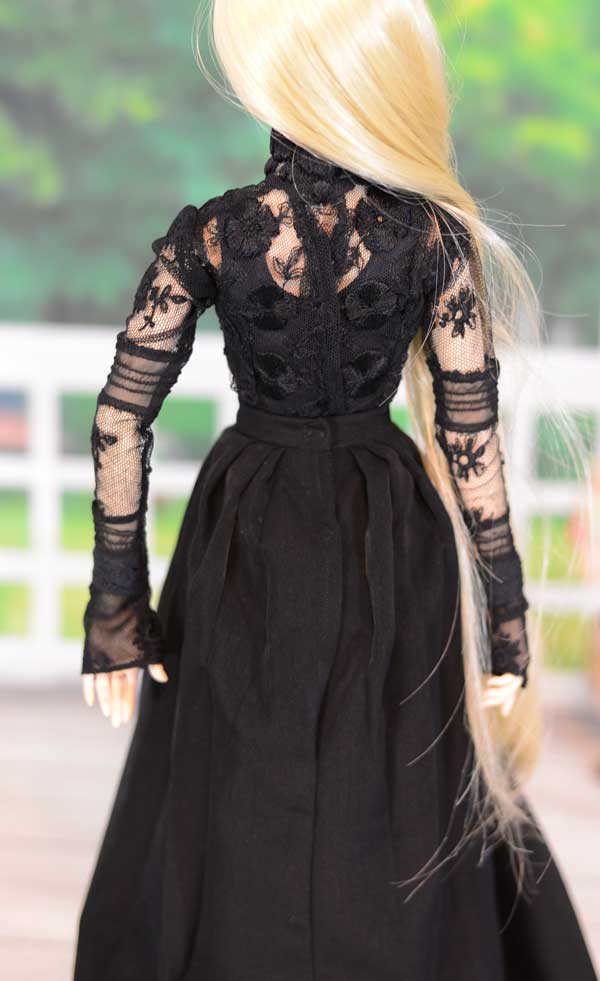 Five Gore Victorian Petticoat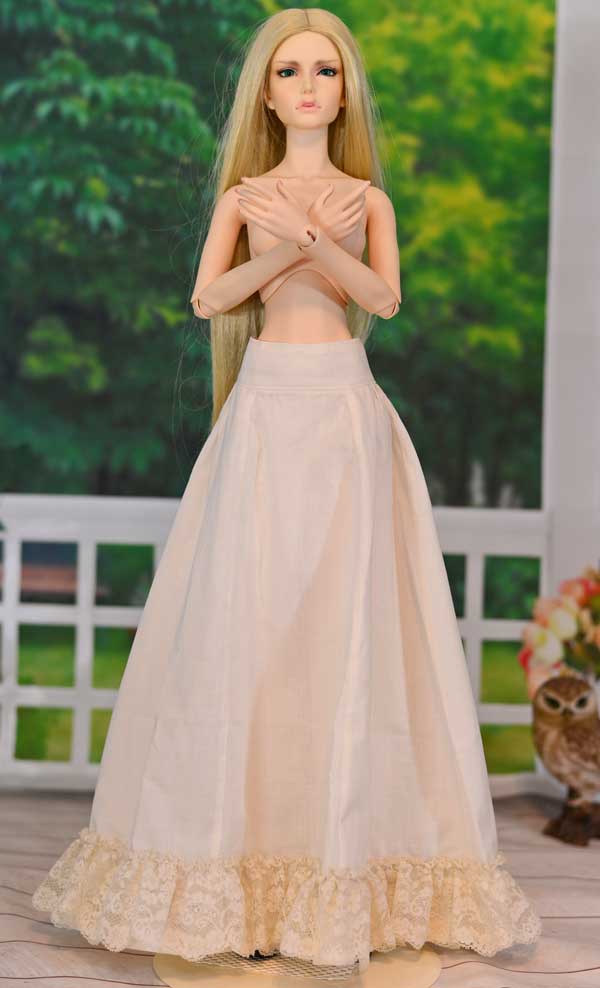 side view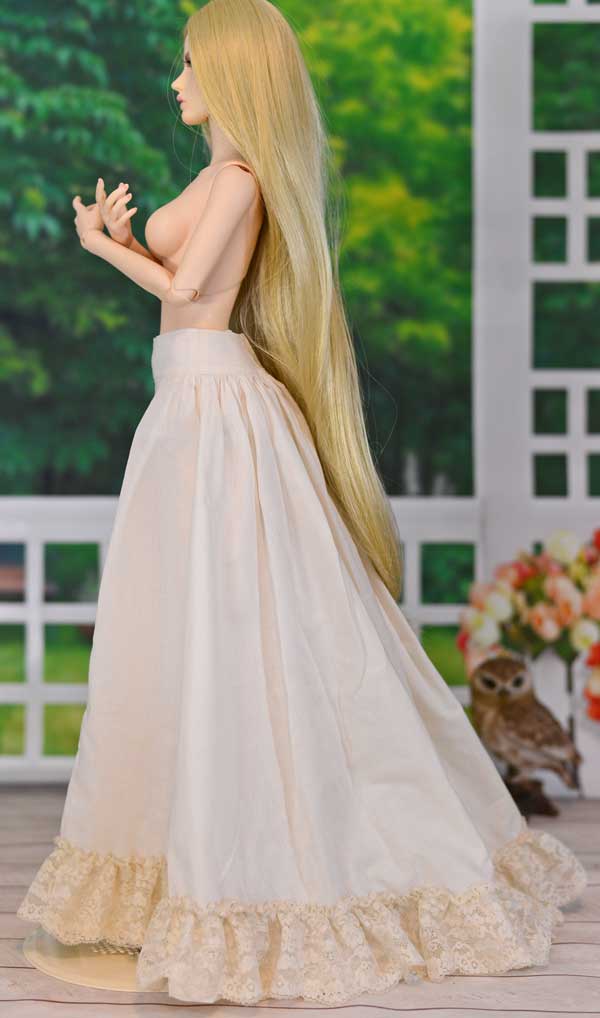 back view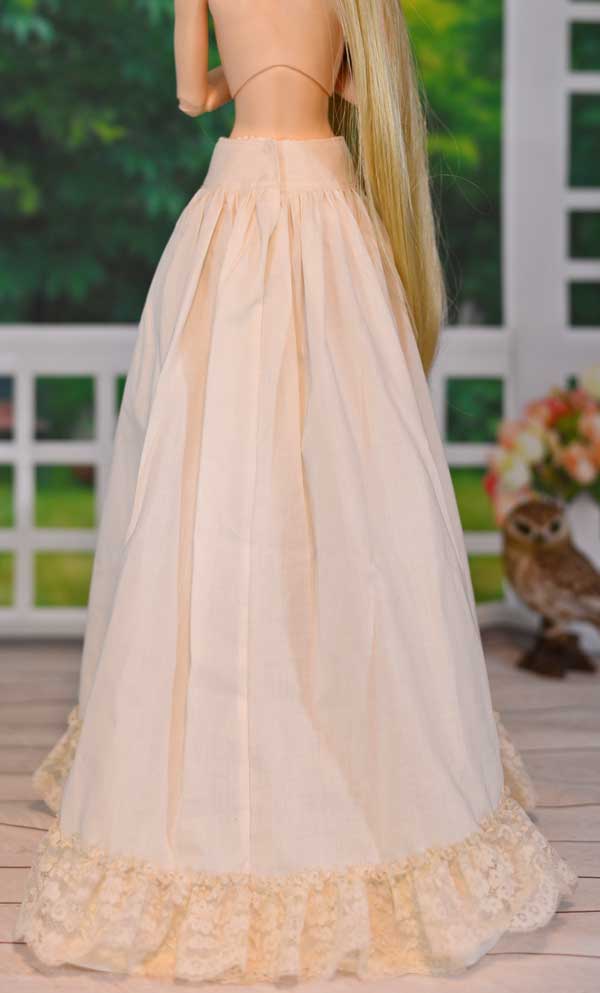 Batiste and French Lace Pantalets


just pantalet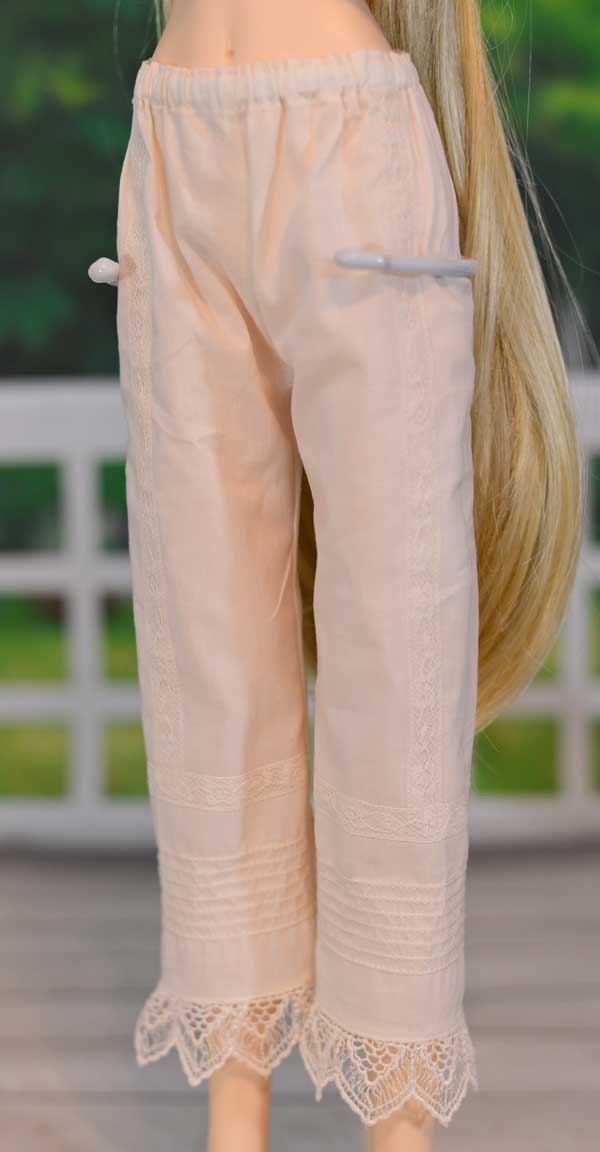 other view